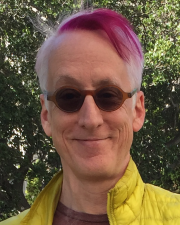 Research Expertise and Interest
linguistics
,
English
,
California
,
language change
,
Indo-European languages
,
historical linguistics
,
northern California Indian languages
,
linguistic structure
,
typology
,
ancient Greek
,
Latin
,
Irish
,
Oceanic languages
Research Description
Andrew Garrett is a professor in the Department of Linguistics.  He works on Karuk and Yurok (languages of northern California) and on early Indo-European languages, especially Greek, Latin, and languages belonging to the Anatolian branch (such as Hittite and Lycian). He has also worked on the history and (British) dialects of English, on comparative Austronesian (especially involving Leti, Ponapean, and Rotuman), and on the Ohlone language Rumsen (spoken around Carmel and Monterey).
He is a historical linguist interested in language change (in phonology, morphology, syntax, and semantics), patterns of language diversification, and methods of reconstruction. One broad aim of his historical research is to reintegrate the study of language change with linguistic theory and typology. A goal of his Americanist work is to bring philological and field work together to develop a picture of the linguistic ecology of California and the west coast. In language documentation, he is especially interested in language documentation projects whose products serve both academic linguists and indigenous communities. He has found that digital databases and online resources are flexible enough to benefit a variety of users.
In the News
May 24, 2021
In March, UC Berkeley linguist Zachary O'Hagan called Florida Atlantic University anthropologist Gerald Weiss to ask about audio recordings that Weiss had made in the 1960s and '70s of Ashaninka people, the largest Indigenous group living in Peru's Amazon rainforest.
June 20, 2011
The new California Language Archive (CLA) website at UC Berkeley – the largest indigenous language archive at a U.S. university – is now accessible free of charge to anyone with Internet access.