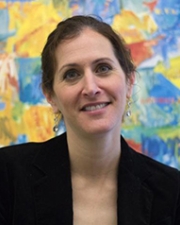 Amy Lerman
Department
Dept of Political Science
Goldman School of Public Policy
Research Expertise and Interest
American government
,
public opinion
,
criminal justice
,
prisons and policing
Research Description
Professor Amy Lerman writes widely on issues of race, public opinion, and political behavior, especially as they relate to punishment and social inequality in America. She is particularly interested in the political attitudes and behavior of the economically marginalized, youth, and racial minorities. Professor Lerman is the author of two books on the American criminal justice system—The Modern Prison Paradox (2013) and Arresting Citizenship (2014). Her most recent book, Good Enough for Government Work (2019) examines how perceptions of government shape citizens' attitudes toward privatization. Her scholarship can be found in a number of edited volumes and a variety of peer-reviewed journals, and has been featured in numerous media outlets including the New York Times, Washington Post, USA Today, CNN and NPR.
In addition to her academic work, Lerman has served as a speechwriter and communications consultant for national nonprofits and members of the United States Congress, a community organizer in Latin America and Southeast Asia, and an adjunct faculty member of the Prison University Project at San Quentin State Prison. She consults widely on issues related to prison reform, access to higher education, and law enforcement mental health.
In the News
July 5, 2022
Overcrowding, sometimes in antiquated buildings, compounded by rapidly changing conditions and the need for complex coordination, helped to drive a dramatic surge in COVID-19 in California's prisons, according to a new report from the University of California, San Francisco, and the University of California, Berkeley.
August 23, 2018
A first-of-its kind report states that California's correctional officers are regularly exposed to traumatic events that make them more likely to grapple with depression, PTSD and suicidal thoughts.
January 16, 2018
Response to a recent report finding that California's correctional and parole officers face extraordinarily high risks of suicide and other mental health problems has Amy Lerman feeling cautiously optimistic about the state's ability to address the issue.