Richard B. Gump South Pacific Research
The mission of the Gump Station is to promote research, education, and public service in global change science, tropical biocomplexity, and sustainable development. With its local and international partners, the University of California is working to develop the island of Moorea as a model system to understand how physical, biological, and cultural processes interact to shape tropical socio-ecosystems, particularly coral reefs.
Site and Facilities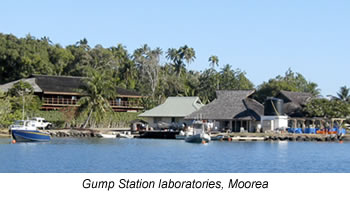 A high volcanic island with a well-developed coral reef system and tropical terrestrial environment, Moorea (population ~17,000) is located 12 miles from Tahiti (8 hours from LAX). The Station was established in 1985 after Richard Gump donated his property of 33 acres on the shore of Cook's Bay to the University of California. Facilities include a dock, boats (small skiffs to a 26 foot research boat), wet lab with flow-through seawater system, SCUBA facilities, and a fleet of vehicles. A large air-conditioned research building contains general use labs, molecular laboratory, conference room, and office space for visiting researchers. Up to 50 people can be housed on-site in various accommodation options.
Vision
Researchers must synthesize complex systems at different scales to address the major scientific questions, environmental and social challenges of the 21st century. Moorea is a complete socio-ecosystem in the heart of the Pacific Ocean, including coupled marine and terrestrial habitats. The island has emerged as a key site for collaborative international research and advanced training, representing an ambitious but tractable scale for whole-system study. Furthermore, Moorea's archipelago setting allows comparison with other Polynesian islands that share common biocultural ancestry but differ in key parameters likely to affect their vulnerability and resilience.
Research
Research spans levels of biosocial organization: from genetics and molecular biology, through organismal and population biology, to anthropology, economics, engineering, landscape planning and architecture. Among a diverse range of programs, two are noted here:
(1) The U.S. National Science Foundation (NSF) designated the coral reefs surrounding Moorea as a Long Term Ecological Research (LTER) site in 2004. The NSF established the LTER Program in 1980 to support research on long-term ecological phenomena and the Moorea Coral Reef LTER is the only coral reef in the prestigious 26-site network.
(2) With grants from the Gordon and Betty Moore Foundation, an international consortium launched the Moorea Biocode Project in 2007 aiming to build a comprehensive inventory of all non-microbial life on the island by 2011. With genetic sequences obtained for every species, Moorea will be the only complex tropical system to be completely characterized, providing an unparalleled platform for future research.
Advanced Training
The Gump Station hosts numerous graduate students each year carrying out individual research for masters and doctoral theses. In addition, undergraduate field courses regularly use the Station to provide transformative educational experiences for students. For example, each fall UC Berkeley teaches a course on the Biology and Geomorphology of Tropical Islands (22 students for 9 weeks) and each spring Northeastern University runs a similar size course in Marine Biology.
Outreach
The Gump Station's "Atitia Center" is located on the southern half of the UCB property and is devoted to community outreach and educational activities. The Center is a partnership with a Tahitian community based organization - Association Te Pu 'Atiti'a - largely made up of local educators and traditional experts. The Atitia Center develops common educational and research programs focused on marine and terrestrial biodiversity, traditional knowledge, culture, and the relationship between human societies and natural ecosystems