Human Rights Center
The Human Rights Center promotes human rights and international justice worldwide and trains the next generation of human rights researchers and advocates.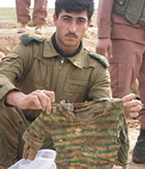 The Human Rights Center (HRC) is a research and training center that applies innovative technologies and scientific methods to investigate war crimes and other serious violations of human rights. Based on its findings, HRC recommends specific policy measures to protect vulnerable populations and hold perpetrators accountable. HRC trains advocates around the world and provides them with the skills and tools necessary to document human rights abuses and turn this information into effective action.
Three core goals guide the Human Rights Center's activities:
Pursue accountability for mass atrocities
Ensure that needs of survivors are heard
Strengthen the research and advocacy capacities of local and international human rights organizations
The Human Rights Center is part of the UC Berkeley School of Law.
HRC Website:  http://hrc.berkeley.edu