CITRIS and the Banatao Institute
Vision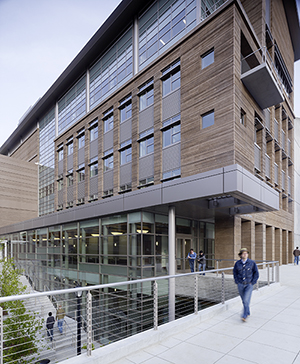 The Center for Information Technology in the Interest of Society and the Banatao Institute (CITRIS) create information technology solutions for society's most pressing challenges. One of the four California Institutes for Science and Innovation, this multi-campus institute leverages the unique research strengths of UC Berkeley, Davis, Merced, and Santa Cruz to advance the University's mission and the innovative spirit of California. Working at the nexus between academia, industry, and the public sector, CITRIS advances world-class laboratory research and accelerates transmission into new applications, platforms, companies, and even new industries.
An important component of CITRIS's success has been close working relationships with industry and government agencies, including the California Energy Commission. CITRIS also has major collaborations with researchers in Europe, Asia, and Latin America, collaborations that support the organization's primary mission and also disseminate its results around the world.
Research Initiatives
CITRIS focuses primarily on four multi-disciplinary research initiatives:
Connected Communities supports projects in civic technology, collaborative design, participatory decision-making, and citizen science, among others.
The Health Initiative develops transformative and scalable technology solutions to improve health and wellness, with a particular focus on telemedicine solutions for an aging population.
People and Robots leads such pioneering fields as human-centric automation, cloud robotics, deep learning, and biomimicry.
Sustainable Infrastructures examines energy, water, and transportation issues as well as cyber-infrastructure as essential components of a sustainable society.
CITRIS has also launched two programmatic initiatives: The Women in Technology Initiative (co-sponsored with the College of Engineering) and the Work and Intelligent Tools and Systems Initiative on the future of work in an automated age. Running across all initiatives and programs are CITRIS's priorities and values — including innovation, sustainability, and diversity.
Labs and resources
CITRIS is headquartered on the UC Berkeley campus in Sutardja Dai Hall, where facilities include:
The 149-seat Banatao Auditorium and atrium, which hosts hundreds of public events year-round designed to stimulate dialogue and advance the CITRIS research mission.
The Tech Museum, which welcomes an estimated 5,000 visitors annually to multimedia displays on scientific innovations, devices, and products.
The Invention Lab, a 1,700-sf makerspace and studio filled with rapid-fabrication and prototyping equipment that serves more than 300 MakerPass users per year.
The Marvell NanoLab, 15,000 sf of Class100 and Class1000 nanofabrication cleanroom facilities that serve around 400 service account users, including industrial affiliates.
Facilities at other CITRIS campuses include the Center for Health and Technology and Center for Virtual Care at the UC Davis Health campus in Sacramento, offering a combined 52,000 sf of telemedicine training facilities; the MESA Lab at UC Merced for outdoor UAV testing; and the UC Santa Cruz Silicon Valley campus in Santa Clara, which offers proximity to industrial partners and professionals in the heart of the world's technology capital.
The CITRIS Foundry, a startup accelerator founded in 2013 to support deep technology product teams, has helped launch 48 new companies that have gone on to raise more than $59M in external funding, for an estimated 40x return on overall investment.
Seed funding
CITRIS and the Banatao Institute catalyze promising new technology projects through a competitive seed funding program. Since 2007, core funds of $600,000 per year have supported a total of 154 projects and 340 researchers from all CITRIS campuses, resulting in extramural funding up to seven times over the initial investment within 4 years of completion.
Student programs
The CITRIS Tech for Social Good program provides more than $50,000 annually to undergraduate, graduate, and postdoctoral teams developing hardware and software prototypes and events that support healthy, sustainable, connected, and equitable livelihoods in the U.S. and abroad.