Central Sierra Snow Lab
Located at Donner Pass in the Sierra Nevada, the Central Sierra Snow Laboratory is a research field station of UC Berkeley specializing in snow physics, snow hydrology, meteorology, climatology, and instrument design. Built in 1946 by the (then) U.S. Weather Bureau and Army Corps of Engineers, it is administered by UC Berkeley's California Biodiversity Center.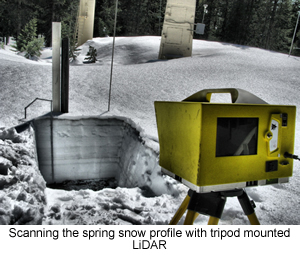 Research Programs
Current research includes modeling black carbon's role as an albedo-changing precipitate and snow surface impurity; studying the isotopic evolution of the snowpack; measuring the attenuation of cosmic gamma radiation to assess snowpack snow water equivalent; the operational utility of weather forecasts; using LiDAR to measure snowpack spatial and temporal distribution; trends in Sierra Nevada climatology and snowpack during the past six decades; modeling ground and surface water response to snow accumulation and ablation; modeling air temperature lapse rate; fluidless (2 designs) precipitation gauge development; snow surveys; avalanche safety and forecasting.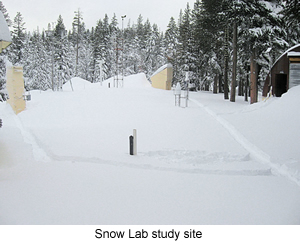 The Facility
Staffed year-round. Main lab building with office space, electronics workroom, wet chemistry lab, kitchen, bath, 3 bedrooms. Wireless DSL throughout the main building. Support buildings including parking garages, a Sno-Cat garage with wood- and metal-working shops, paint shed, propane back-up generator. Snow-study site (50 m diameter natural clearing) adjacent to Lab building has wide array of hydrometeorological instruments, from which data are logged, telemetered, and streamed on-line. The site has 3 instrument towers from 7 to 11 m tall. A small instrument tower is located 100 m north of Lab in a forested site. The Central Sierra Snow Laboratory (CSSL) is part of the California Air Resources Board acid deposition network, as well as being a USDA Natural Resource Conservation Service (NRCS) snow telemetry (SNOTEL) site. CSSL is a reporting station for the California Department of Water Resources stream and river flow forecast program. The Snow Lab is also a reporting station for the National Weather Service. The Lab is located 300 m from pavement on a dirt road (not plowed in winter) which adds privacy and security.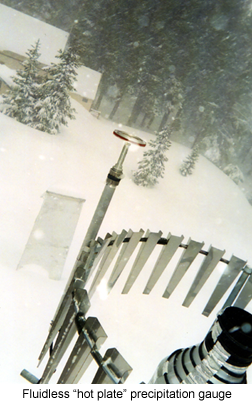 The Environment
Conifer dominated (Lodgepole Pine, Red Fir, Whitebark Pine); 2100 m elevation, 2 km west of the Sierra Nevada crest. Persistent maritime climate with an average annual precipitation of 1.3 m; average annual snowfall is 10.4 m; average maximum snow depth is 3.4 m. Average yearly max and min air temps of 26 and -10° C. Located at the headwaters of the South Fork Yuba River. Castle Creek (draining the 1214 hectare Castle Valley watershed) runs 50 m behind CSSL. Castle Creek has rainbow and brown trout populations. Many species of mammal and bird inhabit the forest surrounding the Lab.
The Data
CSSL has a fairly complete and consistent record of precipitation, snowfall, snow depth, and air temperature for the periods of 1946-1952 and 1957-present. The Lab also has long-term data sets on wind speed and direction, solar radiation, snow temperature, relative humidity, and soil moisture. Much other data from a wide variety of studies over the past 64 years is also archived. In addition, precipitation and air temperature records from other sites on Donner Summit (dating back to the turn of the century) are available. Check out the Snow Lab's real-time weather data.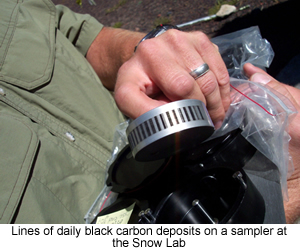 The Area
Donner Summit has several hundred full-time residents and supports 7 developed ski areas. In Soda Springs (1 km west of CSSL) there is a food market, gas station, and post office. Donner Summit has five hotels and a couple bed-and-breakfasts. CSSL is approximately 3 hours from the San Francisco Bay area, 90 minutes from Sacramento, 45 minutes from Reno, Nevada, 30 minutes from Lake Tahoe, and 15 minutes from Truckee. CSSL = 39.32547 N, 120.36737 W. The Chickering Reserve, a University of California Natural Reserve, is approximately 16 km from CSSL.
Central Sierra Snow Laboratory Research Cooperators
Alpine Meadows Ski Area
Auburn Ski Club
CA Air Resources Board
CA Department of Water Resources
California Highway Patrol
CalTrans
Dartmouth College
Desert Research Institute
Donner Summit PUD
Golden West Meteorology
Lawrence Berkeley National Laboratory
National Oceanographic and Atmospheric Administration
National Weather Service (RENO)
National Weather Service (SAC)
Nevada County
Pacific Gas and Electric
Placer County
Sandia National Laboratories
Scripps Institution of Oceanography
Sierra Avalanche Center
Sierra College
Sierra Lakes Water District
Sierra Nevada College
Snowbridge Associates
Squaw Valley Ski Area
Sugar Bowl Ski Area
Tahoe Nordic Search and Rescue Team, Inc.
Tahoe Research Group
Town of Truckee
UC Berkeley
UC Davis
UC Santa Barbara
Union Pacific Transportation Company
University of Nevada
University of Washington
US Bureau of Reclamation
US Forest Service, Pacific Southwest Research Station
US Forest Service, Tahoe National Forest
US Geological Survey
USDA Natural Resource Conservation Service