Center for Korean Studies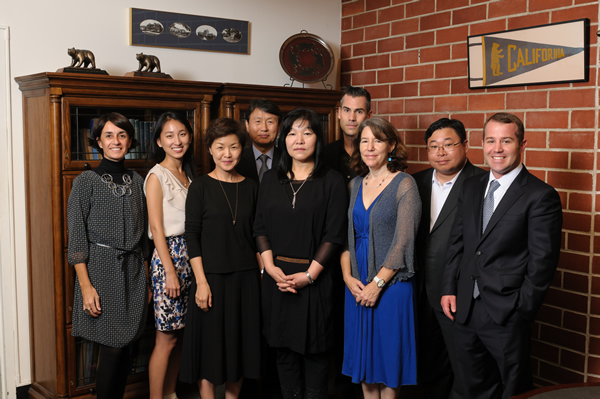 The Center for Korean Studies (CKS) is a unit of the Institute of East Asian Studies. The Center is one of the nation's most active academic centers for the study of Korean humanities and social sciences. Its goal is to use the academic resources of the University of California to promote international cultural, economic, and political understanding.
Originally part of a combined Center for Japanese and Korean Studies, a separate Center for Korean Studies was established in 1979 in recognition of Korea's growing importance in world affairs. Today the Korea program is developing rapidly, in keeping with expanding interest in this field.
Each year, the Center sponsors film festivals, colloquia, regional seminars, international conferences, and visiting lectures. The Center helps to build ties between institutions of higher learning, research institutes, governmental and business agencies in Korea and the United States. The Center also actively promotes all aspects of Korean studies at Berkeley. In addition, the Center hosts international academic fora, conferences, and meetings in co-sponsorship with sister institutions at home and abroad.
The Center also provides assistance grants to scholars and students doing research in Korean Studies in the humanities and social sciences. In addition to a full schedule of colloquia and conferences, the Center for Korean Studies sponsors a vigorous program of scholarly exchange. Distinguished visitors from Korea, including individuals from public life and diplomatic service, as well as Korea specialists from other American universities, visit Berkeley and contribute to the intellectual life of the Institute and the campus. Major financial support from the Academy of Korean Studies and Samsung helps to support distinguished visiting specialists to teach about Korea, graduate student fellowships and exchanges, as well as colloquia, conferences, faculty research, and publications development.
Research and Outreach
The current research and outreach agenda of the Center for Korean Studies comprises a focus on the humanities and social sciences. Ongoing research projects and programs include:
Korean Studies Colloquia: An open series of English-language lectures that brings distinguished speakers to present their cutting-edge research and experiences to an audience of campus and community members interested in Korea. See a list of colloquia sponsored by CKS in Spring 2015.  
 
National and International Conferences: Several large-scale conferences are held throughout the academic year. For 2014-2015, under the theme of Korean Literature on the Global Stage, the Center hosted a talk and book signing with award-winning Korean novelist Kyung-sook Shin and a conversation with Buddhist monk and sijo poet Master CHO Oh-hyun. In conjunction with the Center for Chinese Studies and Center for Japanese Studies, CKS also hosted two large symposia entitled "Mega-FTAs and the Global Economy"  and "Nuclear Options: Behind the US-South Korea Conflict".
 
Special Topics Courses on Korea: With generous support from the Academy of Korean Studies, CKS is able to invite visiting professors and lecturers to teach courses on Korea. For 2014-2015, the AKS grant is supporting several courses in the Department of East Asian Languages and Cultures taught by Visiting Professor of Korean Literature Youngmin Kwon: Modern Korean Fiction (Fall), Contemporary Korean Literature (Fall), Modern Korean Poetry (Spring), Readings in Modern Korean Literature (Spring). The AKS grant is also supporting a brand new course in the Group in Asian Studies taught by Postdoctoral Fellow and Lecturer Jack Davey called Modern Perspectives on Ancient Korea.