Center for Japanese Studies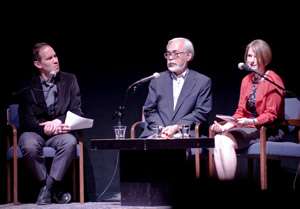 Founded in 1958, the Center for Japanese Studies supports the teaching and research mission of the University in all areas of Japanese Studies. Approximately 36 faculty and staff members contribute to teaching and research programs that annually serve over 2,000 undergraduate and 100 graduate students in the departments of Anthropology, Architecture, East Asian Languages and Cultures, Business Administration, Film Studies, History, Journalism, Law, Linguistics, Music, Geography, Political Science and Sociology.
December 2009 hosting events with prominent Japanese speakers such as Haruki Murakami, Sadako Ogata, Toyo Ito, Hayao Miyazaki, and Norman Mineta. In recent year, CJS has established three important international awards: the Berkeley Japan Prize (winners for 2008-2009 were Murakami Haruki and Miyazaki Hayao) and the Berkeley New Vision Award (the 2009 winner was Clint Eastwood), and the Toshihide Numata Best Book Prize in Japanese Buddhism. The Center has also instituted a new postdoctoral fellowship: the Shinjo Ito Postdoctoral Fellowship in Japanese Buddhism.
The funds and facilities of the Center for Japanese Studies are used to support:
Faculty Research
Graduate Student Fellowships
Postdoctoral Fellowships
Acquisitions of Japanese materials by the East Asian Library
Lectures, Colloquia, Seminars and Workshops
Visiting Scholars
Publications (Monograph, Occasional Paper, Book Prize)
Campus Programs and External Organizations on projects of common interest and concern
Research and Outreach
International Conferences. CJS brought internationally acclaimed featured speakers during the 50th anniversary year. The most recent international conferences held in Fall 2009 were: "Tracing Japanese Buddhism," "Japan and Japanese America: Connections Across the Pacific Rim", "The History and Contemporary Forms of Japanese Food Culture", and "Japanese Studies at Berkeley, Past, Present, and Future," all open to the public. CJS continues to host Japanese Studies Colloquia, a series of English-language lectures to an audience of campus and community members interested in Japan. In Spring 2010, it will continue to bring Japanese public intellectuals and artists to its various events. The featured speakers are: Taro Kono (political leader, LDP), award-winning documentary film maker Kazuhiro Soda, poet and Tokyo Raid witness Katsumoto Saotome, and others. CJS will also support various co-sponsored symposia such as "The New Ethnic Identity for Sustainable Citizenship in Japan," "Japan's Long 16th Century," "Relocating Ozu: The Question of an Asian Cinematic Aesthetic" and two Buddhism events: "Japanese Buddhist Culture and Monzeki Temples" and "Tendai Studies and Art." Open to the Public.