Wen-hsin Yeh receives Humboldt Research Award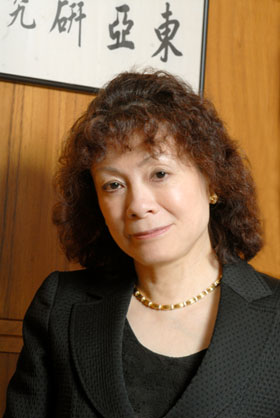 Wen-hsin Yeh, a UC Berkeley professor of Asian studies and history as well as an authority on modern China, has been awarded aHumboldt Research Awardby the Alexander von Humboldt Foundation in Germany.
The Humboldt Research Award is granted in recognition of a researcher's achievements; the fundamental discoveries, new theories or insights the researcher has made that have had a significant impact on his or her own discipline; and the cutting-edge achievements he or she  is likely to continue producing. Award winners are invited to spend up to one year cooperating on a long-term research project with specialist colleagues at a research institution in Germany.
During Yeh's stay in Germany, she plans to organize an international conference on China studies in the context of interdisciplinary discourses and globalized exchange networks, and to research the intellectual formation of the German-educated China historian Chen Yinke (1890-1969), whose conception of national studies was a major influence on modern Chinese construction of Chinese history.
Professor Klaus Muehlhahn of the Freie Universität Berlin nominated Yeh for the award and described her as "a leading international authority on 20th-century Chinese history and well known for her path-breaking research on social and cultural history." Muehlhahn noted Yeh's contributions to the study of modern Chinese cities, higher education and the origins of Chinese communism.
Yeh is the Walter and Elise Haas Chair Professor in Asian Studies and the Richard H. and Laurie C. Morrison Chair in History, as well as the director of UC Berkeley's Institute of East Asian Studies. She is also an honorary professor of history at Peking University, an honorary distinguished researcher at the Shanghai Academy of Social Sciences, and the author or editor of 16 books and numerous articles examining aspects of Chinese modernity and the politics of space.
The Humboldt Foundation, named after nature researcher, explorer and scientist Alexander von Humboldt (1769-1859), is based in Bad Godesberg, a district in the city of Bonn. It grants up to 100 Humboldt Research Awards annually.
UC Berkeley faculty who previously have received the award include R. Jay Wallace of philosophy; Nobel Prize-winning economist Oliver Williamson of the Haas School of Business; Hal Varian of the School of Information; and the late Nobel Prize-winning economist Gerard Debreau.