UC Berkeley's Ali Javey Winner of APEC Science Prize for Innovation Research and Education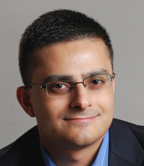 U.S. Secretary of Energy Steven Chu awarded the 2011 APEC Science Prize for Innovation, Research and Education (ASPIRE Prize) to UC Berkeley Professor Ali Javey in San Francisco today. Professor Javey is well known for developing low-cost, flexible, and lightweight photovoltaic cells that can achieve a theoretical efficiency of 20% or more and can be easily rolled onto roofs and other surfaces. Dr. Javey has also developed transistor arrays that use a fraction of the power of conventional silicon transistors. The ASPIRE Prize recognizes young scientists who have demonstrated a commitment to both excellence in scientific research, as evidenced by scholarly publication, and cooperation with scientists from other Asia-Pacific Economic Cooperation (APEC) member economies.
Click here for additonal details.