UC Berkeley students present recommendations for clean energy policy in Washington, DC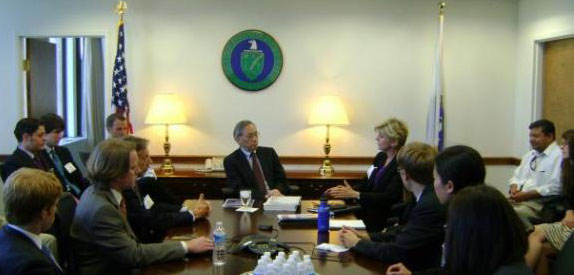 On May 29, 2012 a group of graduate students from UC Berkeley met with energy policy makers in Washington, DC to present their recommendations on developing a national clean energy plan. These recommendations were based on an extensive report that represented the culmination of a semester's worth of work in the class  "Renewable Energy and Other Cleaner Fuels: Energy Policy to Save the Planet, the Country, and the Economy". The course, which was offered jointly through Berkeley Law and the School of Public Policy, featured nearly 50 graduate students from every corner of campus including law, policy, business, natural sciences, and engineering, and received a curriculum development award through the Berkeley Energy and Climate Lecture series.
Class instructors Professor Steve Weissman of the Law School and Jennifer Granholm, visiting Professor of Law and Public Policy and former Governor of Michigan, were also present in Washington DC for a busy day that was kicked-off by a meeting at Department of Energy headquarters with none other than Energy Secretary Steven Chu. Governor Granholm began the presentation by setting the stage with the need a coherent national energy policy. Citing the current jobs deficit and the inability to turn clean energy into a job creation engine, the class set out to develop a national energy policy that respects the states, encourages partnerships with the private sector, and tears down regulatory barriers to renewable energy development. This is done through a plan that combines five regional strategies, each promoting renewable energy, and based on the assumption that the federal government is prepared to put $5 billion into the renewable energy and cleantech sector to be distributed across the five regions. The proposal is structured similarly to the Department of Education's Race to the Top, a competition announced in 2009 for $4.35 billion in grants to support education reform and innovation.
Sydney Glassman, a PhD candidate in the College of Natural Resources, was excited to travel to Washington, DC and have the opportunity to make a difference. "We think that by focusing on the strengths of each state and each region in the US that we have come up with viable strategies such that the whole country benefit can be greater than the sum of its parts," she stated when concluding the presentation
The team next met with John Wellinghoff, chairman of the Federal Energy Regulatory Commission (FERC). The role of FERC is to regulate the country's natural gas industry, hydropower projects, oil pipelines, and rates for wholesale electricity. In the past, FERC has been called on to establish comprehensive guidelines for national electricity transmission in response to the growing demand to address complex multi-state transmission lines.
Wellinghoff, calling it "one of the best conceptual presentations I've seen," thought the plan would be palatable to a bipartisan group, but stressed the need to administer the funds fairly and transparently.
Governor Granholm is currently advocating for a National Clean Energy Jobs Race to the Top, and plans to present this project at a public panel at Stanford in several weeks. She summed up the experience by saying, "this is a very exciting moment for us to have impact on national energy policy."