UC Berkeley scientists to work with DOE labs to produce more nuclear security experts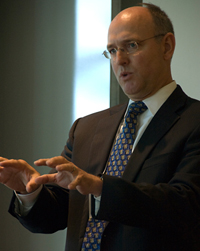 As guardian of the world's largest nuclear arsenal and signatory to international nonproliferation treaties, the United States needs people versed in nuclear science to maintain and safeguard its weapons and monitor the compliance of other nations.
That need was emphasized by officials of the Department of Energy's National Nuclear Security Administration (NNSA), who came to campus today (Friday, June 10) to congratulate UC Berkeley on winning a $25 million, five-year contract to help supply the government with experts in nuclear security.
"There has been a big uptick in the number of bachelor's and master's degree students graduating in nuclear science in this country, but our concern is that our national laboratories are not interacting with the universities" that are producing those graduates, said David LaGraffe, deputy director of NNSA's Office of Proliferation Detection, which will oversee the grant. "We're working to expand those opportunities."
"This program is about people; linking the labs and the universities," said Edward Watkins, director of the Office of Proliferation Detection. "We're committed to this."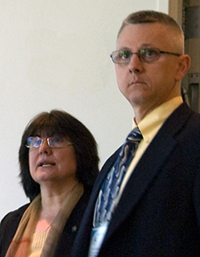 The officials spoke today in Soda Hall at a day-long symposium to kick off the consortium. The event followed an announcement of the grant by the NNSA yesterday in Washington, D.C., at the University of California Washington Center.
LaGraffe said that UC Berkeley's proposal for a National Science and Security Consortium to create a pipeline between universities ‑ including many Historically Black Colleges and Universities ‑ and national laboratories was the most balanced of those submitted.
"We chose UC Berkeley because of the quality of the research and because its PIs (principal investigators) are tops in the world," he said. "But UC Berkeley also has a very good and successful pipeline in operation," in part because of its existing interactions with four national DOE labs.
Jasmina Vujic, UC Berkeley professor of nuclear engineering and director of the consortium, noted that the consortium's main goal will be to "attract the best and brightest students to focus on nuclear science and security."
"We're after human capital," LaGraffe added. "Hopefully, this program results in more students pursuing a career in national security."