UC Berkeley robotics expert named among world's top young innovators
Pieter Abbeel, a University of California, Berkeley, professor known for his novel work in the field of machine learning in robotics – including robots that can fold laundry – has been named to a prestigious list of 35 of the world's top young innovators by Technology Review magazine.
Technology Review, the oldest technology magazine in the world and a publication of the Massachusetts Institute of Technology (MIT), announced the 2011 TR35 honorees today (Tuesday, Aug 23). The innovators, all under the age of 35, were selected from among more than 300 nominees, whose wide-ranging research fields include energy, medicine, computing, communications and nanotechnology.
Abbeel, 33, assistant professor in the Department of Electrical Engineering and Computer Sciences, is being recognized for his research in algorithms that enable robots to learn new tasks. As a Ph.D. student, he developed the concept of "apprenticeship learning," in which machines learn by first observing humans demonstrate the task.
"For robots to be integrated in unstructured or changing environments, such as a typical human household, they must develop the ability to learn from human experts and to even teach themselves," said Abbeel.
With his algorithms, autonomous helicopters have learned how to perform complex aerobatic maneuvers, such as flips and auto-rotation landings.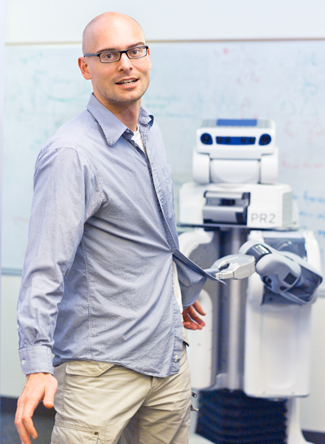 More recently, Abbeel has focused on applying his machine-learning research to surgical and personal robotics. Abbeel's team has enabled robots to perform such concrete skills as tying surgical knots or folding towels and socks. To complete those tasks, robots must be able to view irregular objects – such as a crumpled pile of laundry – identify and pick out the target items and then determine how to correctly manipulate them.
That's easy enough for humans, but tough for a robot. Advancing the field of machine learning could have far-reaching benefits for society.
"Personal robots that can perform everyday chores will enable elderly and disabled people to live more independent lives," said Abbeel. "I believe my research could also be used to enhance surgical efficiency and consistency, improving the quality of healthcare."
Abbeel and the other TR35 honorees will be recognized at Technology Review's 2011 Emerging Technologies (Emtech) Conference, to be held Oct. 18-19 at MIT.
"Technology innovation is key to driving growth and progress in the areas of research, medicine, business and economics," said Jason Pontin, editor-in-chief and publisher of Technology Review, in a statement. "This year's group of TR35 recipients is driving the next wave of transformative technology and making an impact on the way we live, work and interact."
Related stories: