Two young faculty members named MacArthur 'genius' fellows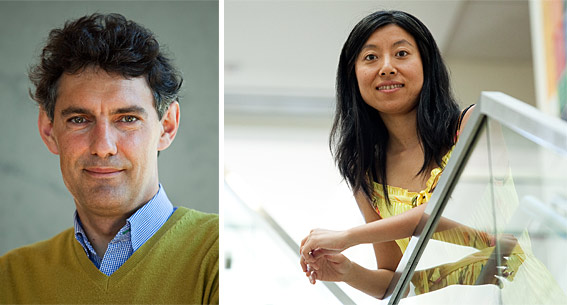 An economist specializing in tax policy and the distribution of income and wealth and a computer scientist focused on improving security and privacy are two young faculty members at the University of California, Berkeley, who were named MacArthur "genius" Fellows today (Tuesday, Sept. 28).
Emmanuel Saez, professor of economics, and Dawn Song, associate professor of electrical engineering and computer sciences, are among 23 recipients to receive the prestigious award – $500,000 in unrestricted funds over the next five years – by the John D. and Catherine T. MacArthur Foundation.
Saez is the E. Morris Cox Professor of Economics and director of the Center for Equitable Growth at UC Berkeley. Just a month before turning 38, he already has built an international reputation for his landmark work in public economics, particularly his historical analyses of U.S. income distribution that highlights income inequality and the nation's top 1 percent of income earners. The MacArthur Foundation praised Saez's quantitative analyses, behavioral experiments and theoretical insights for "enhancing our understanding of the relationship between income and tax policy and reinvigorating the field of public economics."
At a time when the United States and most of the world is experiencing an economic recession or at least the remnants of one, Saez's research seems to hit a special nerve. Among his best known work is research showing that a recent resurgence of income concentration among the highest earners is largely due to increased wage compensation, such as salaries and bonuses, rather than capital income like dividends and interest. And in another study, Saez provided a more complete picture of how taxpayers at different income levels respond to income tax system changes, information that is critical to evaluating the effectiveness of tax policy.
"I think inherently the study of inequality is interesting precisely because regular people care about inequality," he said. "When they see statistics of income equality increasing, poverty statistics, they react strongly. It does have an impact on how they feel, and hence the decision they will take in the political arena."
Saez received a B.A. in 1994 from the École Normale Supérieure, an M.D. in economics from the Department and Laboratory of Applied and Theoretical Economics in Paris, and a Ph.D. from the Massachusetts Institute of Technology. He was an assistant professor at Harvard University prior to joining UC Berkeley's economics department.
He spoke in a video produced by the MacArthur Foundation about how his training in mathematics led him to the field of public economics, or the role government plays in economics.
"Using mathematics, you can actually study real-world problems through the field of economics," said Saez. "We economists are interested in the consequences of policy when people start responding to incentives, taxes, etcetera. That's why knowing how people react to a specific program or respond to a specific set if incentives is critical for the evaluation of potential public policy programs."
He said the fellowship offers "great encouragement to devote more time to help explain my work to the broader public, especially when the results can have an impact on current policy debates, such as the taxation of top incomes."
Saez is no newcomer to scholarly recognition. Among his top prizes is the 2009 John Bates Clark Medal for the most promising young American economist under the age of 40. The E. Morris Cox Professorship that he holds was previously held by Daniel McFadden, one of UC Berkeley's Nobel Prize-winning economists.
Saez said the fellowship was a surprise because it is awarded to very few economists and he is humbled because other honorees such as UC Berkeley economist Matt Rabin "are either truly original geniuses," or those have had a big world impact through their work, such as last year fellow and Saez friend Esther Duflo from MIT.
"Not feeling like a genius, I see this award as recognition that my academic work on inequality and taxation has also been useful in the public debate beyond academia," he said.
Song, 35, an associate professor in the Department of Electrical Engineering and Computer Sciences, is being recognized for her innovative work on protecting computer systems from malicious software, or malware. The MacArthur Foundation cited Song's approach of identifying security breaches by identifying underlying patterns of computer system behavior that can be applied across whole classes of security vulnerability, rather than focusing on specific errors in programming logic.
"The call was out of the blue and such a pleasant surprise," said Song, about learning the news. In an interview with the MacArthur Foundation, she discussed the potential impact of the award on her ability to pursue unconventional research.
"To me, life is about creating something truly beautiful, and in order to do that, often it involves taking a path that is less traveled," she said. "The MacArthur fellowship will allow me to take that path to explore new territory that other people have not walked."
One of Song's project topics is analogous to biological defenses against infection. Much like our human immune system is constantly on the lookout for invaders, the BitBlaze program developed by Song's lab scans and analyzes binaries of vulnerable software and malicious code, and automatically identifies the root cause of attacks to generate defenses.
Song's lab is now working on the next generation of BitBlaze, making it more scalable and powerful than its predecessor. Her group is also exploring how to extend this technology to other areas, such as networked medical devices and systems.
Another area Song plans to pursue is better protection of users' privacy when they go online. "A lot of sensitive data about people are being collected on the Internet, such as users who use online social networks or cloud-based services," said Song. "A big question is how we can protect users' privacy without hindering their ability to use these services."
Song's work in security and privacy issues has already garnered her quite a bit of attention, earning her a National Science Foundation CAREER Award for young faculty, an MIT Technology Review Award for being among the world's top young innovators, a Guggenheim fellowship, an Alfred P. Sloan Research Fellowship, and the IBM Faculty Award, among many others.
Before coming to UC Berkeley, Song was an assistant professor at Carnegie Mellon University. She obtained her bachelor's degree in physics from Tsinghua University in China in 1996, her master's in computer science from Carnegie Mellon University in 1999, and her Ph.D. in computer science from UC Berkeley in 2002.
Saez and Song bring to 45 the number of "genius" fellows hosted at UC Berkeley since the awards were instituted in 1981. Thirty-two current or former fellows are still affiliated with the campus as active, visiting or emeritus faculty members.
Additional information about this year's fellows, including bios, photos and video, are available at the MacArthur Foundation website.