Two postdocs among Forbes 30 Under 30 In Science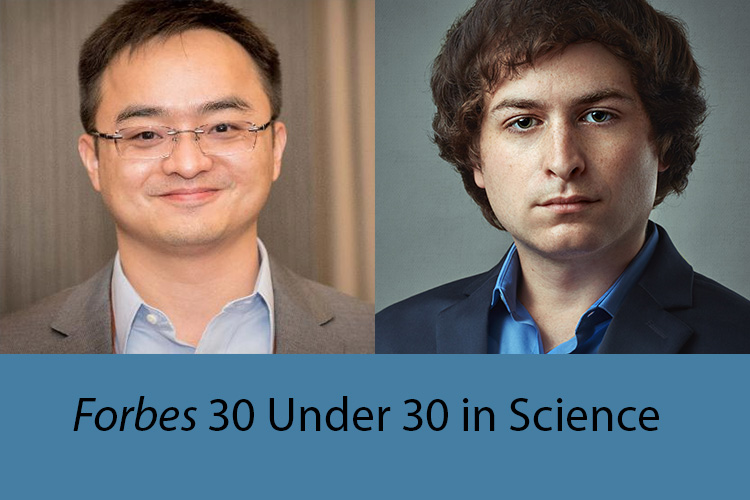 Two UC Berkeley postdoctoral fellows, physicists Aaron Meisner and Liang Wu, were recognized in the annual Forbes 30 Under 30 In Science list.
Meisner, 29, focuses on data-intensive challenges in astronomy, such as the search for our solar system's hypothetical ninth planet. Working with NASA, he cofounded the popular Backyard Worlds: Planet 9 citizen science project, which since February has assembled a team of nearly 43,000 volunteers to "scan the realm beyond Neptune for brown dwarfs and planet nine." The project's volunteers have already discovered one previously unknown brown dwarf.
Meisner also works on the Dark Energy Spectroscopic Instrument (DESI) project led by Lawrence Berkeley National Laboratory. He obtained his B.A. in physics from Stanford University and earned a Ph.D. in physics from Harvard University.
Wu, 29, is an experimental condensed matter physicist who has won several honors in the past year, including a dissertation award from the American Physical Society. Forbes recognized him for his research on topological materials, "which are of interest for building the next generation of quantum computers." His work, Forbes also noted, "could lead to breakthroughs in infrared detectors and solar cells." A year ago, he served as the lead author in a Nature Physics publication exploring a class of materials that could be useful for optoelectronic devices, including far-infrared detectors.
Wu, who obtained a B.A. in physics from Nanjing University and his Ph.D. in physics from Johns Hopkins University, has accepted a position as assistant professor of physics and astronomy at the University of Pennsylvania.
Both are affiliates of Berkeley Lab: Meisner in the physics division and Wu in the materials sciences division.
Several alumni are on other "30 under 30" lists compiled by Forbes. Han Jin, 29, who obtained his master's degree in industrial engineering and operations research in 2012, was listed under consumer technology as cofounder of Lucid, a company that created the first consumer camera that makes it easy to create virtual reality and augmented reality content in 3D. 
Two bioengineering alums were singled out for their contributions in health care. Kunwoo Lee, 29, who received a Ph.D. in bioengineering in 2016, founded a startup, GenEdit, out of the CITRIS Foundry to develop a way to deliver muscular dystrophy-curing CRISPR edits to the body using nanoparticles. Siddarth Satish. who obtained his master's degree in bioengineering in 2011, is the founder and CEO of Gauss Surgical, a company that has developed technology to monitor blood loss in the operating room.