Transatlantic Science Week brings Norway to Berkeley to tackle global energy challenges

From progenitor trustee Peder Sather to a returning royal alumnus, Tuesday's launch of Transatlantic Science Week at the Brower Center invoked the deep cultural ties that bind UC Berkeley and Norway to inspire a call-to-action for greater collaboration in tackling global energy and climate challenges.
"To turn dreams into action, we need to cooperate across borders — national borders, borders between different fields of research, and borders between academia and business," said Crown Prince Haakon of Norway, who earned a bachelor's degree in political science from Berkeley in 1999.
More than 300 participants from academia, government and industry registered to attend Transatlantic Science Week 2011, as the annual event came to the West Coast for the first time in its 10-year history.
Hosted in conjunction with Berkeley and Stanford University, this year's program of seminars, workshops, presentations and site-visits focused on the theme of innovation frontiers and pressed home the importance of partnerships that span government, academia and industry.
"Beyond this program's focus on renewable energy, climate change, space science and marine biology, our researchers share an interest in accelerating the translation of our research into real products and innovations that will benefit society," said UC Berkeley Chancellor Robert Birgeneau during his opening address to the packed auditorium at the Brower Center.
The week-long program also offers attendees the opportunity to tour a number of high-profile research facilities around the Bay Area, including Berkeley's Space Sciences Laboratory, the Joint BioEnergy Institute in Emeryville, the IBM Research Center – Almaden in San Jose, NASA Ames Research Center at Moffett Field and Google headquarters in Mountain View.
Donald DePaolo, professor of geochemistry at Berkeley and associate director for energy and environmental sciences at Lawrence Berkeley National Laboratory, delivered one of two keynote addresses. DePaolo, who also serves as director of the Center for Nanoscale Control of Geologic CO2 — a U.S. Department of Energy-funded Energy Frontier Research Center, discussed LBNL's Carbon Cycle 2.0 initiative, which aims to accelerate discovery and innovation toward a global low-carbon energy system.
Fridtjof Unander, executive director of the Research Council of Norway, delivered the second keynote address on Norwegian perspectives on energy research and development.
The Stanford portion of program included a range of presentations and workshops on topics from microelectronics and nanotechnology to translating research into scalable business.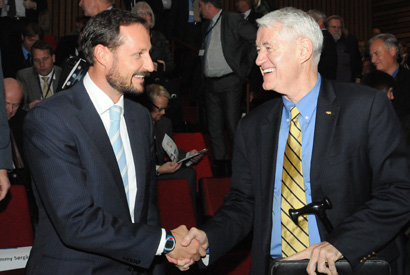 Organized by the Norwegian embassy in Washington, D.C., the transatlantic forum was established in 2001 to foster, facilitate and increase cooperation between Norway and North America in the areas of research, innovation and higher education.
"We need scientists who believe their work can change the world, but we also need politicians who believe in science, its methods and in using knowledge as a tool to reach goals for our world," said Norwegian Minister of Industry and Trade Trond Giske.
During his opening remarks, Prince Haakon paid homage to the vision and legacy of his countryman Peder Sather, a fisherman who emigrated from Norway to the United States in the 1830s.
Sather was one of the early trustees in the private College of California, which merged with a fledgling state land-grant institution in 1868 to create the University of California. Following his death, Sather's wife Jane funded two of Berkeley's most iconic structures, Sather Gate and Sather Tower.
"Together, the Sathers opened a path to education and research that many Norwegians follow to this day," Haakon said. "And today, many years later, our countries and continents are cooperating in research, education and innovation, seeking to find solutions to tomorrow's problems today."
Over the years Berkeley faculty and students have maintained and extended that relationship with Norway.
In conjunction with the governments of Norway and Sweden, the campus hosts the bi-annual Peder Sather Symposium with the goal of fostering interdisciplinary discussion on global and national issues among scholars and policy makers from Europe and the United States.
"Our campus has enjoyed a very special relationship with Norway for many years and the Sather name is an inextricable part of UC Berkeley's history," Birgeneau said, as he recalled collaboratives past, present and future.
The campus has active exchange agreements with many Norwegian universities that bring together faculty and students, foster interaction and facilitate collaborative research.
Lawrence Berkeley National Laboratory has maintained a close working relationship with the Norwegian University of Science and Technology (NTNU) for more than 20 years. Focused on research areas such as the development of high-performance building solutions, the partnership with the American laboratory helped the Norwegians in establishing the Research Centre on Zero Emissions Buildings at NTNU in 2009.
On this side of the Atlantic, Norwegian energy company Statoil established a customized executive-education program at Berkeley's Haas School of Business, which draws on the expertise of faculty from the business school, engineering and letters and science.
The College of Letters and Science, in partnership with several Norwegian universities, is spearheading efforts to establish the Peder Sather Centre for Advanced Study. Norwegian institutions recently committed more than $6 million to underwrite the effort, and campus officials held a special ceremony for Science Week participants at the base of Sather Tower Tuesday afternoon to celebrate the news.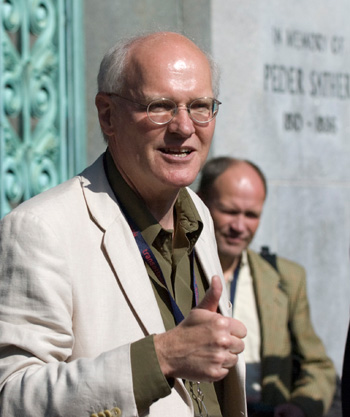 Berkeley professor of sociology and Oslo native Trond Petersen will co-direct the proposed center, which will seek to enhance and expand existing ties and establish new relationships with researchers across many disciplines.
"The programs are still fluid at this stage but, initially, the work of the center will likely focus on cognitive neurobiology, climate studies and human rights," said Graham Fleming, vice chancellor for research at Berkeley.
During the opening address at the Brower Center, Tora Aasland, Norway's minister of research and higher education, unveiled a white paper outlining her government's strategy to enhance high-quality cooperation with the United States and Canada in higher education and research.
"Research is prerequisite for innovation, and we constantly need new knowledge in order to develop solutions to the global challenges we face," said Aasland.
The Ministry of Research and Higher Education will invest almost $2 million per year in the effort through 2015, allocating an additional $1 million to stimulate knowledge exchange with North American researchers.
Aasland outlined the "enormous machinery and many cogs" essential to fostering discovery, innovation and advancement, from a solid school system that supplies the higher education system with knowledgeable and motivated students to a universities that facilitate researchers in their quest for new knowledge and inspire new recruits to research.
However, a system that producers and encourages highly-skilled, ambitious researchers eager to reveal new knowledge, find new solutions and develop new technologies, must be motivated and open-minded to see the innovative potential in research findings in order to succeed, she cautioned.
"Apollo 11, which took Neil Armstrong and Buzz Aldrin to the moon, would never have happened without the belief that basic research and new technologies can move the frontiers of human activity," Aasland concluded.