Training program at QB3 sets displaced workers on a new course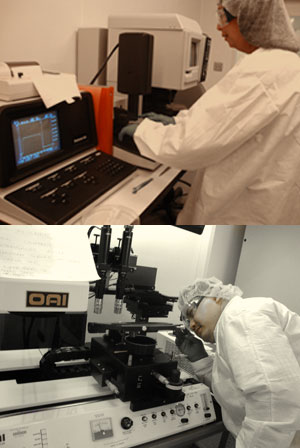 A group of Laney College students, all of them displaced workers looking for a new job field, got specialized training this summer in medical device technology at UC Berkeley through a new collaboration between UC Berkeley and Peralta Community College District staff. At least two students have already received Bay Area job offers as a result.
Students received hands-on training at UC Berkeley's Biomolecular Nanotechnology Center (BNC), a core research center of the California Institute for Quantitative Biosciences (QB3).
From June through August, a group of 18 students participated in the program, along with a Laney Instructor and a UC Berkeley doctoral student. All the students had been laid off or lost their jobs, and several were from the now-closed NUMMI plan in Fremont.
Students learned the basics of design, fabrication and use of microfabrication technology for microfluidic devices used in current "lab on a chip" bioinstrumentation and biotechnology applications.
Complementing the lab portion of the course, lectures and discussions at Laney covered cleanroom techniques, application of scientific protocols, mechanical design software SolidWorks, and workshops on FDA regulations specific to medical device manufacturing.
The training program developed out of discussions between BNC managing director Paul Lum and Peralta College faculty member Naima Azgui, with the support of Peter Crabtree, Dean of Laney's Career and Technical Education Division.
"I credit Paul and Naima for seeing the potential for a win/win situation," says QB3-Berkeley director and UC Berkeley professor Susan Marqusee. "We have the advanced microfluidics equipment and the technical expertise, and Laney has the students who need this training to move into new careers. This brings the two together for a great outcome."
Jason Vicencio, who built trucks for 17 years on the NUMMI assembly line, says he is confident there will be future jobs in the biotech field because of the aging Baby Boomer population. "This program really opens up more doors, and now there are jobs in the medical device field that I'm qualified for," says Vicencio.
For Racquel Fabian, who spent 8 years on the NUMMI assembly line, the training program offered an opportunity to transition from a blue collar job to a new biotech career, with an excellent chance of success. "Now we have the practical experience and the new skills that give us a fighting chance," says Fabian. "We wouldn't be able to even interview for these jobs without this training. It's been an invaluable experience."
In partnership with the Alameda County Workforce Investment Board (ACWIB) and industry partners, Laney has developed a pilot interdisciplinary program in medical device engineering with the goal of retraining displaced workers in the East Bay for career entry in this industry sector.
Using the summer lab course as a springboard, Laney faculty will now begin developing a two-year bioengineering certificate and degree program for technical and transfer students.
Laney's Peter Crabtree says the community college students were enormously satisfied with their lab experience in the BNC. "I've never heard such positive feedback from students – they loved it!" he says. "The partnership with UC Berkeley and QB3 provided an incredibly rich educational experience for the students. The time spent in the lab brought the whole program together for them."