Top graduating senior makes a splash in water policy
Rebecca Peters' IQ score measured so low in 4th grade that her school did not deem her to be college material. Her parents didn't buy it, and neither did she. Her great-grandmother, grandmother and mother had all attended the University of California, Berkeley.
Unlike her foremothers, though, Peters is the first to graduate, and she is making quite a splash in the process.
A diehard water and sanitation access warrior, Peters, 23, is this year's winner of the University Medal, which goes to UC Berkeley's top graduating senior and comes with a $2,500 award. A transfer student by way of Cal Poly San Luis Obispo, Peters is graduating with a double major in Society and Environment and Interdisciplinary Studies, and a minor in Global Poverty and Practice.
"It's overwhelming. My parents were told that I would never learn to read at college level. I was put in basic classes and was bored to tears," said Peters, who grew up in Calabasas, Calif., in the Santa Monica mountains. "My mom put up a fight.  I had a teacher who advocated for me. They say it takes a village to raise a child. It took a lot more than that to get me to graduate."
This Saturday (May 17), the statuesque San Francisco-born environmentalist will speak to thousands of her peers at the campus-wide commencement ceremony at California Memorial Stadium.  
Making waves since middle school
Peters has been making waves since age 13 when her backyard creek turned up dead frogs due to chemical dumping. In high school, she was appointed to the Calabasas Environmental Commission
In addition to the academic rigor that earned her a 3.98 GPA, the Prizes Committee recognized Peters for her public service in such countries as Guatemala, Mexico and Bolivia where she's focused on improving the quality of and public access to potable water, which she believes is key to empowering girls and women.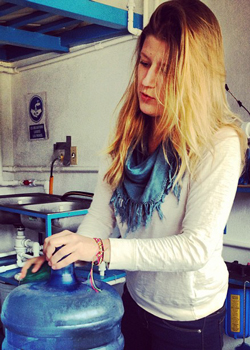 In the last year, Peters has won three of America's ten most prestigious academic scholarships. As a 2014 Marshall Scholar, she's headed to England in the fall for two years of postgraduate study. Last year, she won a Harry S. Truman scholarship for public service. She also won a Morris K. Udall Foundation Scholarship, which is awarded to sophomores and juniors who are studying in fields related to the environment. Her role model is Catarina de Albuquerque, the United Nations Special Rapporteur on the human right to drinking water and sanitation, and it would not surprise some if Peters one day filled those or similar shoes.
"I am convinced that Rebecca will be a trail-blazer in the field of international water policy, and we are already seeing evidence of her innovations and interventions," wrote Ananya Roy, a professor of city and regional planning and chair of Global Poverty and Practice, in a recommendation letter submitted to the Prizes Committee.
A nature child at heart
Peters credits much of her outlook to her parents, John and Laura Peters, who gave her plenty of freedom to explore, and encouraged her to be a good steward of the land.
"We hear a lot about attention deficit disorder, but there's also nature deficit disorder," Peters said. "For a lot of kids, everything is structured, music lessons, organized sports, and while these are all good and healthy things to have, I think kids need to develop imagination and a connection to one another and the environment, just time to play. And I had a lot of that as a child."
Peters faced some formidable challenges, not the least of which is clinical depression, which can be debilitating during times of stress.
"I call it depression parkour. You wake up and you have to figure out how to get out of bed and keep moving forward. It's not easy. It's something you have to live with," she said. "And so it helps to have something like water to focus on. Water is bigger than the sum of its parts. It's social and it's also about bonds at a chemical level."
Peters was born in San Francisco in 1991, the youngest of three daughters, all now environmentalist movers and shakers in their own right. Her parents met when her father was general counsel of Francis Ford Coppola's Zoetrope Studios in North Beach, and her mother was working there.
In 2000, the family moved to three acres on Mulholland Drive, Calabasas, in the Santa Monica mountains where they championed stream cleanups, recycling and water and energy conservation. Peters roamed around their lush backyard, and played in the creek – at least until it became polluted.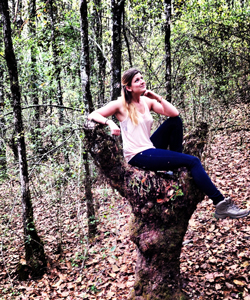 "This was my playground. It's where I spent time with my friends, catching tadpoles and frogs and staying up late to hear the crickets," she said. "So when frogs started dying off and the river dried out, I started asking questions, trying to figure out who was dumping what, and started a petition to make people aware."
Much of this was accomplished through her work on the city's environmental commission, from which she rallied thousands of her peers and neighbors to get involved in recycling programs, restoration and cleanups in the Las Virgenes watershed.
Awakened to water access inequities 
However, school at that time was a lot less stimulating, and the tedium drove Peters to enroll in courses at Los Angeles Pierce Community College, where her mother was also taking classes. There, she took courses in everything from physics and calculus to architecture and Italian, entering Cal Poly in San Luis Obispo in 2009.
Overall, Cal Poly offered a more technical approach than what Peters was seeking, and so she joined a project on the campus that took her and 12 other students up to the mountain village of San Pablo Tacana in Guatemala to develop a water treatment project. It was an awakening.
"In Guatemala, poverty is about violence and the legacy of civil war. You see Mayan communities still living in rural, segregated areas with no services and with no piped water," she said. "It was there that I first saw a direct connection between socioeconomic status, race and ethnicity and access to water in a way I had not seen in California. That's why I'm here today at Berkeley."
Around that time, UC Berkeley was promoting its Global Poverty & Practice program, then the fastest-growing minor on campus as members of the "Yes-We-Can" generation signed up in droves. Peters enrolled at Berkeley in 2011 as a transfer student and quickly found her home at the Blum Center for Developing Economies, which sponsors the Global Poverty minor.
Since then, she has blazed through her junior and senior years, founding and heading up various projects including the Pachamama Project in Cochabamba, Bolivia, a partnership between a Mexico-based non-profit and other groups to improve water access to 12 rural schools; the Berkeley Water Group, a student-run think tank on global water, health, hygiene and sanitation issues; and her DeCal course "Water and International Human Rights." She has also worked with migrant farm workers in the Salinas Valley on water contamination issues.
Everything revolves around water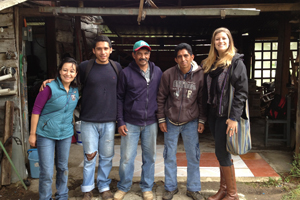 Of course, life at Berkeley hasn't been all work and no play. One place she'll miss the most is the Free House restaurant at Bancroft Way and College Avenue, a 1926-built mansion formerly owned by the Presbyterian Church, and which served as a meeting place for the Free Speech Movement when members were not allowed to congregate on campus.
"I take all my meetings there. It's awesome," she said. "I'm probably there five times a week."
After finishing her graduate studies abroad (she will attend Manchester University and then Oxford University), she hopes to return to UC Berkeley for a Ph.D. to shape U.S. foreign policy related to issues of water access.
"Everything in my life revolves around water and social justice, and I feel fortunate for that," she said. "Not everyone has that and not everyone wants it, but it works for me."