Three young faculty members honored by White House
President Obama this week named three young UC Berkeley faculty members as recipients of the Presidential Early Career Awards for Scientists and Engineers, the highest honor bestowed by the U.S. government on science and engineering professionals in the early stages of their independent research careers.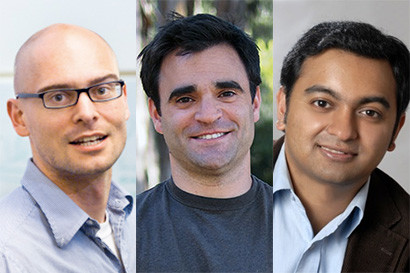 The three, among 105 researchers honored nationwide, are:
Pieter Abbeel, an associate professor of electrical engineering and computer sciences, who received the award through the Department of Defense;
Hillel Adesnik, an assistant professor of molecular and cell biology, who received the award through the Department of Health and Human Services;
Sayeef Salahuddin, an associate professor of electrical engineering and computer sciences, who received the award through the National Science Foundation.
In addition, Berkeley Lab staff scientist Michael Stadler received a PECASE award through the Department of Energy; he is a former UC Berkeley post-doctoral fellow in the Energy and Resources Group.
Abbeel studies deep learning in robots, and has achieved internet fame with his towel-folding robot, BRETT. Adesnik studies the neural basis of perception and how that drives behavior. Salahuddin develops nano-scale electronic and spintronic devices for low power logic and memory applications and heads the Laboratory for Emerging and Exploratory Devices. Stadler, who heads the Grid Integration Group at Lawrence Berkeley National Laboratory, develops design tools for smart energy grids.
Awardees are selected for their pursuit of innovative research at the frontiers of science and technology and their commitment to community service as demonstrated through scientific leadership, public education or community outreach.
"These early career scientists are leading the way in our efforts to confront and understand challenges from climate change to our health and wellness," President Obama said in a statement. "We congratulate these accomplished individuals and encourage them to continue to serve as an example of the incredible promise and ingenuity of the American people."
The winners will receive their awards at a ceremony this spring in Washington, D.C.
The PECASE awards highlight the key role that the administration plays in encouraging and accelerating American innovation to grow our economy and tackle our greatest challenges, the White House said in a statement.
The awards were established by President Bill Clinton in 1996 and are coordinated by the Office of Science and Technology Policy within the Executive Office of the President.
For a complete list of recipients, see the announcement on the White House website.