Symposium targets sleep, stress and obesity
If recent news headlines are correct, Americans are sleeping less, getting more overweight and feeling increasingly stressed compared with decades past.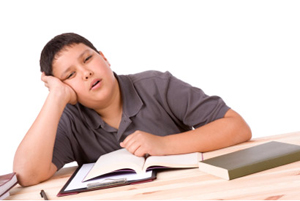 "Never before in the history of humankind have so many people gained so much weight over such a short period of time, implicating a major environmental shift that we are reacting to," said conference co-chair Lorrene Ritchie, director of research at the UC Berkeley Atkins Center for Weight and Health, who called the trio of risks "our nation's greatest epidemic and public health challenge."
"One of our goals," she said, "is to further understand the impact of the social and personal environment on obesity, and to shed light on the understudied but potentially powerful triggers for overeating and inactivity: sleep and stress."
The conference, "Sleep, Stress & Obesity: A Weighty Issue," is the Fifth Annual Obesity Symposium sponsored by the UC Berkeley Atkins Center for Weight and Health; UC San Francisco Center for Obesity Assessment, Study, and Treatment (COAST); and the UC Office of the President. It will be held Sept. 20 from 10 a.m. to 4:30 p.m. at UC Berkeley International House's Chevron Auditorium. (See map here.)
"Sleep has emerged as a key behavioral risk factor for obesity and the underlying metabolic processes that lead to chronic disease," said Elissa Epel, director of COAST and a UCSF associate professor of psychiatry. "There is a clear connection between someone's daily exposure to stressful events, and how much their mind and body respond, and the restfulness of their sleep. It's a complex story we hope to begin to tackle with this year's symposium."
Nearly 100 researchers, policymakers, educators and other participants from around the country are expected to attend to learn about research into how sleep and stress impact our metabolism and brain function, why adequate sleep and stress reduction — alongside a healthy diet and physical activity — may be the 21st century pillars of health, and how sleep and stress may explain disparities in obesity risk.
Giving the keynote talks will be Eve Van Cauter, professor of medicine at the University of Chicago, who will present research on how sleep disturbances may be related to obesity and type 2 diabetes; and Dr. Ronald Dahl, UC Berkeley professor of community health and human development, who will discuss the role of sleep and stress regulation on adolescent brain development.
"We are a sleep-deprived and obese nation, with resistance to changing," said conference co-chair Aric Prather, a symposium speaker and a newly appointed UCSF assistant professor of psychiatry who recently received a National Institutes of Health grant to study the relationships between sleep, stress and eating.
The general public may register online at http://ucsleep2012.eventbrite.com/ to attend the conference. The cost is $25, or $10 for students. Credentialed media may attend for free, but must RSVP by Monday (Sept. 17) to Lauren Goldstein at UC Berkeley's Atkins Center for Weight and Health at lhg@berkeley.edu or (510) 642-8210.