Students think big ideas in tackling societal problems
Closing out almost nine months of intense competition, UC Berkeley's annual Big Ideas contest honored this year's crop of outstanding social projects last week during a special awards celebration at the Blum Center for Developing Economies.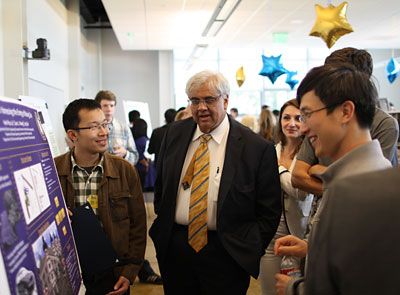 "This year's competition has been the biggest and best yet, with an incredibly broad range of ideas," said Phillip Denny, Big Ideas @ Berkeley program manager and chief administrative officer at the Blum Center.
The campus-focused venture Cashify garnered the grand-prize honors from judges in the campus and community section for its proposal to increase fellow students' understanding of personal-finance matters. The Cashify team plans to develop an interactive online "edu-tainment" platform designed to teach new students about finances through engaging lessons and meaningful materials.
As part of the proposed curriculum, users will complete assigned tasks to earn points that can be put toward purchases, such as campus supplies or event tickets. The project, which was developed by undergraduates Shuonan Chen, Justin Chu and Virgina Chung, also took home $5,000 for the first-place award in Big Ideas' financial-literacy category,
"We've all seen fellow students really struggle with their finances," said Chu. "Our goal is to reach as many minds as possible and make learning about personal finances accessible, fun and useful."
Targeting women's hygiene and clean-water access in Bolivia, the Pachamama Project earned the grand prize in the global-impact category. The human rights-inspired big idea aims to eradicate the stigma surrounding menstruation in Bolivia, engaging with rural communities to improving access to clean water, creating materials to increase educational participation among girls and producing a comprehensive report to assist NGO operations in developing countries.
Developed by Rebecca Peters, Lindsey Dreizler, both graduating seniors in the College of Natural Resources, and engineering graduate student Jessica Kretch, the Pachamama project also placed first in the category of improving human rights.
"On any given day, one-quarter of the world's population is menstruating," said Peters. "So talking about women's hygiene issues and connecting them to issues of clean water and sanitation and education and gender equality is extremely important."
Technology venture Flowbit — which is building out a smart-sensor monitoring and wireless control system for water-delivery kiosks in developing countries — landed the 2013 People's Choice award. Flowbit garnered the largest portion of the more than 2,300 total votes registered for the online contest, beating out the 17 other Big Ideas teams that elected to submit a short project video.
The project, which earned $2,500 as the public's favorite innovative solution to a pressing social problem, also claimed first place in the category of global-poverty alleviation. Working in collaboration with Berkeley researchers and local nonprofit Fundacion Cantaro Azul, the Flowbit team is currently piloting a prototype system in Mexico.
The campus venture was co-founded by alumnus Nick Lee, who graduated in December with a master's degree in environmental engineering; Hung Leong, who is majoring in computer science and chemistry; Cole Murphy, who is majoring in interdisciplinary studies; Cory Levy, who is majoring in political economy; and Yasir Motiwala, who is majoring in economics.
"The idea came about from video chats with a college friend who was telling me about all these different problems he was having in India," said Lee. "We turned the problem into a group project for a mobile-app course and that was the start of Flowbit."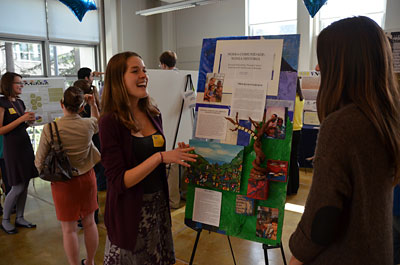 Now in its sixth year, Big Ideas @ Berkeley aims to encourage student engagement with the world, helping them develop innovative projects with the potential to solve pressing societal problems in communities at home and abroad. The competition is made possible through the generous support of key donors, including the Andrew and Virginia Rudd Family Foundation.
"Big Ideas is one of the few venues that invites students to think beyond the classroom walls and provides a vehicle for them to create something that can positively impact communities and lives day-to-day," said Jeff Burton, executive director of Skydeck and a Big Ideas judge.
The 2013 Big Ideas contest attracted proposals from 160 teams, representing more than 550 students across 75 different majors and five UC campuses. This year, six teams were selected to compete for the top honors at April's grand-prize pitch day. Judges recognized a total of 37 projects with awards up to $5,000 across eight categories, including information technology for society, creative expression for social justice, clean and sustainable energy alternatives and scaling-up Big Ideas.
"The standard of entries just keeps going up each year and really demonstrates the commitment of Berkeley students to paint on big canvases in tackling social problems," said Shankar Sastry, dean of engineering and faculty director of the Blum Center.
The annual contest is divided into a pre-proposal round during the fall semester and a full-proposal round held in the spring. As part of the final round, organizers assign experienced mentors to work one-on-one with teams and guide students as they build out and fine-tune project proposals over the course of two months.
Solar-industry entrepreneur and mentor Patrick Shandonay was paired with the Flowbit team.
"They already had a lot of the pieces in place coming in to Big Ideas," said Shandonay.
"My role really focused on helping them look down the road in terms of developing the company, making connections in business and finance and guiding them through their decision-making processes."
With expanded competition resources, teams also benefit from tangible support, including proposal-writing, budgeting and finance workshops, weekly office hours with past contest winners and detailed early-stage feedback from judges.
"The Big Ideas application process itself helped us enormously in terms of fleshing out our business plan," said Flowbit team member Yasir Motiwala.
Cashify's Justin Chu agreed.
"More than anything, competing in Big Ideas empowered us and helped us believe we could make something worthwhile happen," he said.