Six young faculty members named Sloan Research Fellows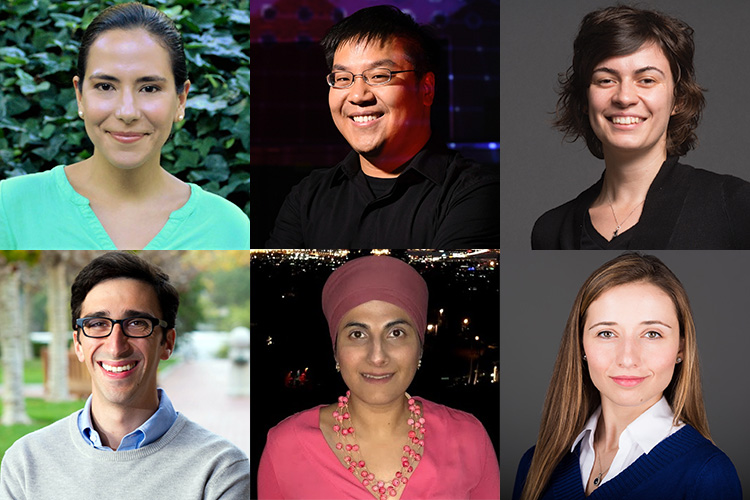 Six assistant professors from the fields of computer science, economics, neuroscience and physics have been named 2018 Sloan Research Fellows, the Alfred P. Sloan Foundation announced today.
The six are among 126 researchers from across the United States and Canadareceiving the fellowships, which "honor early-career scholars whose achievements mark them as among the very best scientific minds working today," according to the announcement.
The recipients are Anca Dragan and Raluca Ada Popa of the Department of Electrical Engineering and Computer Sciences, Supreet Kaur and Danny Yagan of the Department of Economics, Norman Yao of the Department of Physics and Markita Landry of the Department of Chemical and Biomolecular Engineering and the Helen Wills Neuroscience Institute.
"The Sloan Research Fellows represent the very best science has to offer," said foundation president Adam Falk. "The brightest minds, tackling the hardest problems, and succeeding brilliantly – fellows are quite literally the future of 21st century science."
Dragan runs the InterACT lab and is a principle investigator in the Center for Human-Compatible AI, where she focuses on artificial intelligence. Her goal is to enable robots to work with, around and in support of people, autonomously generating behavior in a way that formally accounts for their interactions with humans. She applies optimal control, machine learning and cognitive science to applications such as autonomous driving and assistive robots.
Kaur is a development and behavioral economist who studies the functioning of labor markets in poor countries. She examines how social norms and behavioral biases, such as the limits of human cognition and self-control problems, affect individual behavior and shape market equilibria. By applying insights from psychology into economics, her aim is to deepen our understanding of the causes and consequences of poverty.
Landry, a Chan Zuckerberg Biohub Investigator, engineers nanosensors to image molecules in the body, focusing on neuromodulators such as dopamine in the brain. She is designing a modified two-photon microscope to image dopamine sensors deep in the brain of living, behaving animals, hoping to find a way to assess how psychiatric drugs affect the release and concentration of dopamine in the brain.
Popa is a co-founder of the RISELab, where she focuses on computer security. She is trying to develop a learning and analytics framework that can run on encrypted data. This would let organizations that are not allowed to share data conduct useful medical or financial studies on the combined data, which is not possible today. Even though researchers would not be able to read the encrypted data, such as confidential patient records, they could still learn from the larger data set and, for example, discover better cancer treatment predictors.
Yagan is an applied microeconomist who studies topics of macro importance. He applies careful data analysis to classic issues in economics, such as taxes and business investment, recession recovery and rising inequality.
Yao works at the interface between atomic, molecular and optical physics, assembling complex, strongly interacting, quantum many-body systems from individual atoms, ions, molecules and photons. These advances have opened the door to realizing non-equilibrium phases of matter, such as time crystals, and to understanding the dynamics of quantum thermalization.
The Alfred P. Sloan Foundation is a philanthropic, not-for-profit grant-making institution based in New York City, established in 1934 by Alfred Pritchard Sloan Jr., then-president and chief executive officer of the General Motors Corporation.