Senior with a passion for water rights wins prestigious Marshall scholarship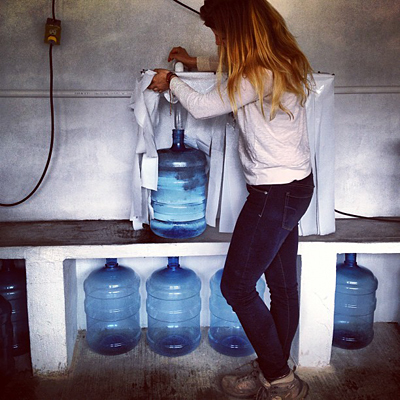 Rebecca Peters, a senior whose deep interest in water rights has taken her to Latin America many times to work on safe water projects and to Budapest and Washington, D.C., to take part in international water policymaking, has won one of the nation's top honors for undergraduates, a Marshall Scholarship.
It's the second big honor for Peters, a double major in international development economics and environmental studies who last spring was awarded a Truman Scholarship, for  "exceptional college juniors."
Peters is Berkeley's first Marshall Scholar since 2006. Her selection comes on the heels of news that a 2012 Berkeley graduate just won a Rhodes scholarship, another coveted honor.
Peters is one of 35 Marshall Scholarship winners for 2014, whose selection was announced last week. The Marshall Scholarship funds American students considered potential future leaders to pursue graduate studies in the United Kingdom, both to bring their ideas to Britain's schools and to take away a deeper understanding of British values and culture.
Peters' scholarship will allow her to study for two master's degrees over two years, one in poverty and development at the University of Manchester, the second in water science and policy at Oxford. After that, she says she plans to use her Truman Scholarship to pursue a Ph.D.
Wherever her studies take her, she says, "At the end, I want whatever I do to improve equitable access to water."
Peters cites estimates that 2 billion people are living today without reliable access to clean, safe water and sanitation, and she wants to apply her knowledge of science, the environment, social policy and global poverty to do something to change that, according to Steven Botterill, professor of Italian studies at Berkeley and chair of the campus selection committee for the Marshall.
"Rebecca stands out nationwide not only for her stellar academic record, but because she has original and persuasive ideas for using her studies, at Berkeley and beyond, as the starting point for making hugely beneficial changes in the lives of innumerable people around the world," says Botterill.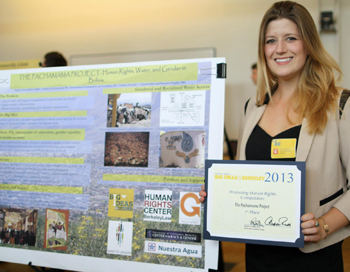 The Blum Center for Developing Economies' Global Poverty and Practice minor attracted Peters to Berkeley after beginning her undergraduate studies at Cal Poly San Luis Obispo. She is the fourth generation of women in her family to attend Berkeley, and will graduate in spring 2014 with two degrees, a bachelor's in science in Society and Environment through the College of Natural Resources and a bachelor of arts in Interdisciplinary Field Studies with a concentration in international development policy and economics in the College of Letters and Sciences, as well as the global poverty minor.
As a Berkeley student, Peters has spent time working on water purification projects in Chiapas, Mexico, and in Cochabamba, Bolivia.
She also traveled to Budapest, one of just two Americans picked to take part in the youth cohort contributing to international water development policy documents issued by the Budapest Water Summit. She recently attended the USAID conference in Virginia, and met with Inter-American Development Bank officials in Washington, D.C., on social entrepreneurship models for improving rural water provision.
She also has worked on water issues closer to home, developing a DeCal course in water and international human rights, leading the interdisciplinary Berkeley Water Group, and contributing to efforts to build a minor in water sustainability, science and policy.
"It is a rare honor for a student to receive both the Truman and Marshall scholarships, but I am not at all surprised that this is the case with Rebecca Peters," says Ananya Roy, who has been Peters' mentor as a professor of international area studies and education director at the Blum Center. "Rebecca is a scholar, activist, and change-maker."
Roy calls Peters "a force to be reckoned with," for her strong academic record, passionate immersion in social justice struggles and ability to negotiate among policy makers.
"Rebecca always shows up and gets the work done," says Roy.  "I remain inspired by her fierce energy and know that this will have tremendous impact in the world."
As a Marshall Scholar, Peters will also serve as an ambassador for both the university and the United States. Says Botterill, she's custom-made for the part: "A brilliant and hard-working individual committing herself to use her talents in the service of others and make the world a better place: What could be more typical of Berkeley values than that?"