Science magazine calls Berkeley discoveries top breakthroughs of 2013
Science magazine's Breakthrough of the Year for 2013 – cancer immunotherapy – emerged from work conducted at UC Berkeley in the 1990s, while a 2012 UC Berkeley discovery was named one of nine runners up for the annual honor.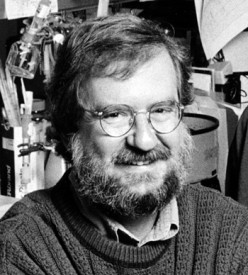 The Breakthrough of the Year and runners up were announced in the Dec. 20 issue of the journal, the main publication of the American Association for the Advancement of Science.
Cancer immunotherapy earned its top spot, according to a Science article by Jennifer Couzin-Frankel, "because this year, clinical trials have cemented its potential in patients and swayed even the skeptics. The field hums with stories of lives extended: the woman with a grapefruit-size tumor in her lung from melanoma, alive and healthy 13 years later; the 6-year-old near death from leukemia, now in third grade and in remission; the man with metastatic kidney cancer whose disease continued fading away even after treatment stopped."
Among the runners up was a gene-editing technique called CRISPR that "touched off an explosion of research in 2013," Science wrote. The technique, discovered in 2012 by Jennifer Doudna and Martin Jinek of the Howard Hughes Medical Institute at UC Berkeley and Emmanuelle Charpentier of the Laboratory for Molecular Infection Medicine-Sweden, allows very precise manipulation of genes and may make gene therapy a realistic alternative for patients with genetic diseases.
Immunotherapy origins at UC Berkeley
Immunotherapy got off the ground in the early 1990s, when UC Berkeley immunologist James Allison found that a newly discovered receptor on immune system cells actually puts a brake on the body's immune response to cancer. He subsequently developed an antibody against the receptor protein, which in tests on mice released this brake and allowed the body's immune system to launch an attack.
The antibody performed well in clinical trials against metastatic melanoma, and was approved by the Food and Drug Administration in 2011 for the treatment of that disease. The immunotherapy, known generically as ipilimumab or by its Bristol-Myers Squibb trade name, Yervoy, is being tried alone or in combination against a variety of other cancers, including prostate cancer.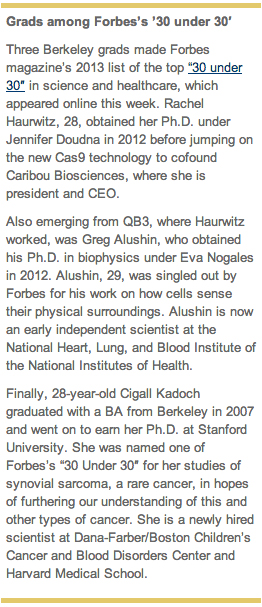 The discovery by Allison, who left UC Berkeley in 2004 for Memorial Sloan-Kettering Cancer Center in New York and is currently at the University of Texas MD Anderson Cancer Center in Houston, paved the way for other types of immunotherapies now undergoing clinical trials. Results published in 2013 provided very encouraging results for kidney, lung, prostate and metastatic cancer patients and for their doctors.
"For physicians accustomed to losing every patient with advanced disease, the numbers bring a hope they couldn't have fathomed a few years ago," Couzin-Frankel wrote in Science.
Launching the CRISPR craze
Doudna's discovery arose from her interest in how cells use RNA (ribonucleic acids), which were once thought to be the blueprints for making proteins but little else. In 2006, she began looking at some bacterial genomes that contain strange repetitive bits of RNA called CRISPR, for clustered regularly interspaced short palindromic repeats. Research later showed that bacteria use CRISPR RNA in conjunction with various enzymes to precisely cut DNA. This is part of the bacteria's defense against viruses: the bacteria cut up viral DNA and stick pieces of it into their own DNA, from which they make RNA that binds and inactivates the viruses.
Doudna and her team eventually worked out the details of how a CRISPR-associated enzyme, Cas9, works together with RNA to cut DNA: the Cas9 protein assembles with two short lengths of RNA, and together the complex binds a very specific area of DNA determined by the RNA sequence. The scientists then simplified the system to work with only one piece of RNA and showed in 2012 that they could program Cas9 to target and snip specific areas of DNA with extreme precision.
"The beauty of this compared to any of the other systems that have come along over the past few decades for doing genome engineering is that it uses a single enzyme," said Doudna, a researcher in the California Institute for Quantitative Biology (QB3) at UC Berkeley. "The enzyme doesn't have to change for every site that you want to target – you simply have to reprogram it with a different RNA transcript, which is easy to design and implement."
According to Science magazine, "This technology … has become red hot in the past year, with more than 50 publications in 10 months. One CRISPR "how-to" website now attracts about 900 visitors each day. Since January (2013), more than a dozen teams have manipulated specific genes in mice, rats, bacteria, yeast, zebrafish, nematodes, fruit flies, plants, and human cells, paving the way for understanding how these genes function and possibly harnessing them to improve health. One team even reported using the approach to disable HIV hiding in T cells."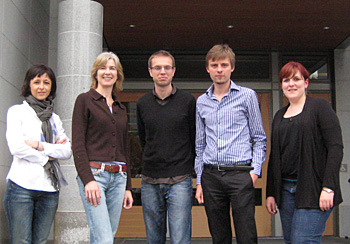 One sign that the Cas9 system has truly taken off is that several companies have been launched to exploit the technology. One of Doudna's former PhD students, 28-year-old Rachel Haurwitz, spun off a company called Caribou Biosciences in 2012 to license the technology for drug development, crop creation and industrial uses. Forbes magazine named Haurwitz one of its top "30 under 30″ in the science and healthcare field in the magazine's January 2014 issue. Her cofounders were Doudna, Jinek and former UC Berkeley professor James Berger, now at the Johns Hopkins University School of Medicine. Another of Forbes's under-30s cofounded Egenesis to exploit the Cas9 system.
"… with companies forming and new studies coming out practically every week, the CRISPR craze is in full swing," Science concluded.
"I think many biologists have come to appreciate that there is a revolution going on in terms of the types of experiments than can now be conducted with the Cas9 system," Doudna said.