Sather Center targets transatlantic research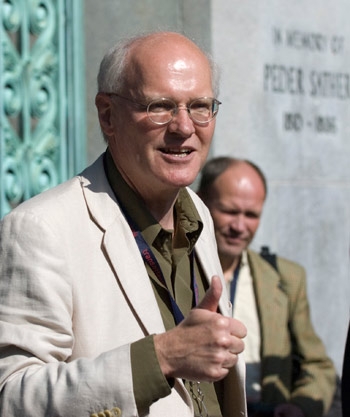 With several of its namesake's descendants on hand for the occasion, UC Berkeley's Peder Sather Center for Advanced Study is celebrating its launch today (Thursday) with a two-day campus conference.
The new center was established in May in partnership with a consortium of eight Norwegian universities to foster transatlantic research collaborations to tackle critical challenges across science, technology and society.
"At this stage, our research areas are defined in broad strokes and the focus is still relatively fluid," says Jeremy Schulz, the center's executive director. "But our goal is to play on our comparative strengths in the sciences and humanities to advance knowledge and address global problems."
The center's inaugural conference features a series of workshops spotlighting focus areas for future research and highlighting the importance of multidisciplinary international partnerships that span government, academia and industry.
Thursday's program includes workshops on education and energy in Durant Hall and human rights and immigration, competition and regulation policy in Stephens Hall. Day-two workshops, held in Wheeler Hall and Alumni House, will focus on neuroscience and climate issues.
The conference's marquee event this evening at Stanley Hall brings together Berkeley's own Saul Perlmutter and George Smoot in conversation with Harry Kreisler, host of UCTV's Conversations With History. The Nobel Prize-winning physicists will discuss their experiences with cross-border research collaborations as they explore future possibilities in science, technology and society.
Silicon Valley venture capitalist Thomas Perkins, a longtime philanthropic supporter of cultural activities in Norway, will deliver the keynote luncheon address before the inaugural conference comes to a close Friday.
Berkeley has a long and rich relationship with Norway, with the Sather family name an inextricable part of campus history.
A Norwegian fisherman, Peder Sather established himself as a successful banker after coming to the United States in the 1830s. Sather became a trustee in the private college that merged with a state land-grant institution to create the University of California in 1868.
Later, Sather's wife, Jane, funded the iconic structures of Sather Gate and Sather Tower — better known as the Campanile — and also created an endowment that continues to fund several Sather professorships.
The campus community has worked to maintain those academic and cultural ties. Today, Berkeley has active exchange agreements with many Norwegian universities that connect faculty and students in practical research.
This week's conference draws inspiration from the bi-annual Peder Sather Symposium, which Berkeley hosted for many years. Organized in conjunction with the consular offices of Norway and Sweden, the symposium sought to strengthen interdisciplinary dialogue among academics and policymakers from Scandinavia and the United States.
Expanding transatlantic exchange opportunities for faculty, graduate students and postdoctoral fellows, the newly established center aims to reinforce existing relationships and establish new connections across a broad range of disciplines.
"The ultimate sign of success would be seeing these multidisciplinary groups of researchers come together and collaborate at a high level to produce real, impactful results," says Oslo native Trond Petersen, a professor of sociology at Berkeley and the center's academic director.