For Richmond residents, RBC spells restoration, remediation, renewal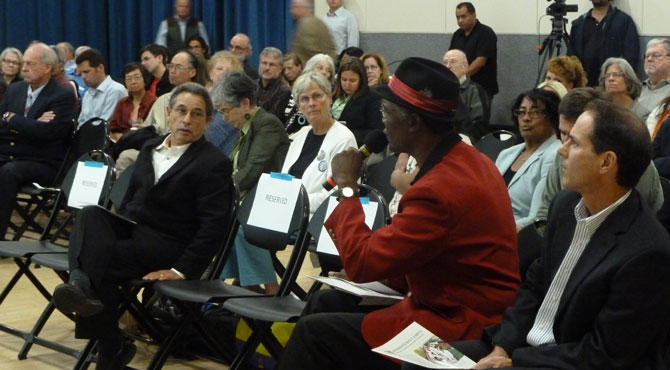 What was described a month ago as "the beginning of a long process of public engagement" took another key step last week, as 100 or so future neighbors of the Richmond Bay Campus got a closer look at just what scientists will be doing when the waterfront facility opens in 2017.
This time, in the second community meeting to be held at the Richmond Memorial Auditorium, UC Berkeley and Lawrence Berkeley National Laboratory — the city's partners in the joint campus — brought along some of the scientists themselves, who talked about their research and took questions from the audience.
UC Berkeley, he noted, patented the life-saving drug and "gave it away" to the pharmaceutical industry, "and they only had one requirement: You can't make any money off of it. You have to make this at cost, so that we can offer the drug as inexpensively as possible to children in the developing world."
Other researchers from UC Berkeley and Berkeley Lab described their ongoing efforts to create carbon-neutral biofuels, restore wetlands, aquifers and creeks and develop new drugs and therapies to combat neurodegenerative diseases.
Questions from audience members centered on employment opportunities — Fleming predicted "a big range of jobs" in the years ahead — safety and citizen oversight. One by one, they received assurances that the Richmond Bay Campus would be operated safely and transparently, and that the city and its residents would be valued partners in the new endeavor, which will have an initial staff of 800 employees and consolidate research currently taking place at five sites scattered throughout the Bay Area.
"There's a strong theme of public safety and awareness, and wanting to be involved," observed Jeff Ritterman, a Richmond city councilman and former chief of cardiology at Kaiser Richmond Medical Center. "Richmond's a city where the city really wants to be involved from the beginning. "
High on the list of residents' interests, Ritterman said, are "safety, education, the economy" and the kind of after-school educational opportunities found in other Bay Area cities.
"It would be really great," he suggested, "to have a biotech, green tech, health tech Exploratorium for Richmond students after school that would be part of this as well."
That, too, Ritterman was assured, is something scientists are working on.