Researchers unveil new initiative on human migration
UC Berkeley researchers today announced the launch of the Berkeley Interdisciplinary Migration Initiative, a joint project of faculty, researchers and students that will explore such timely issues as refugee crises, human rights, mmigration, nativism and border control concerns.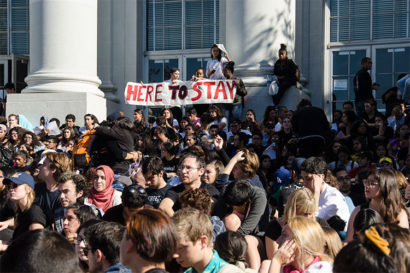 The initiative's website notes that human migration is a major issue in the face of global trends showing that 244 million people worldwide live in countries other than their birthplaces and that at least one in four Californians are immigrants.
"A thoughtful, balanced understanding of migration is now more important than ever, in the United States and around the world," said initiative co-founder Irene Bloemraad, an expert on immigration and a professor of sociology.
"Some people say we are in a 'post-truth' world, but we reject that," Bloemraad added. "Incoming president Donald Trump has gotten key facts about immigration wrong, and we want to share the cutting-edge work being done at Cal to inform public officials at all levels of government, as well as the public and the scholarly community."
The initiative will promote new research, train students and share evidence-based information on migration with the public, Bloemraad said.
It draws on the expertise of faculty across campus, including Catherine Albiston, professor of law and sociology; Patricia Baquedano-López, professor of education; demographer Dennis Feehan; Seth Holmes, professor of public health and medical anthropology professor; political scientist Taeku Lee; Katerina Linos, professor of law; sociologists G. Cristina Mora and Kim Voss; and Chris Zepeda-Millán, professor of ethnic studies.