Research initiative launched on health in working families
A new research hub based at UC Berkeley's Institute for Research on Labor and Employment (IRLE) and the Institute for Women's Policy Research in Washington, D.C., will explore the health effects of income and workplace policies.
Its research focus will be minimum wage laws, state and federal tax benefits, paid leave policies, work schedules, and other policies that help working parents, especially the most vulnerable. The effort is supported through Policies for Action, a research program of the Robert Wood Johnson Foundation.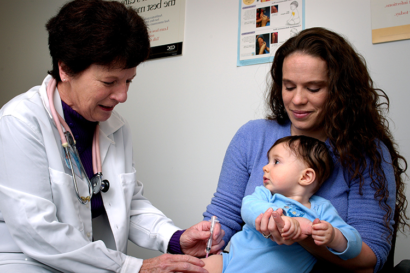 William H. Dow, health economist and interim dean at the UC Berkeley School of Public Health, will co-direct the hub alongside Heidi Hartman, president of the Institute for Women's Policy Research.
"With this new hub, we will be able to take advantage of the fact that we have such active experimentation at the state and local level on many of these issues, said Dow. "We want to crossfertilize ideas that are working — across states, municipalities, and employers — to build understanding around what might be win-wins for healthy workers and thriving economies."
The hub includes six researchers and affiliated faculty from IRLE. Serving as principal investigators are Michael Reich, Sylvia Allegretto, Jesse Rothstein, Hilary Hoynes and Daniel Schneider, as well as Dow.
Rothstein, IRLE's director, and Hoynes are co-principal investigators of one of the hub's research projects that will be testing strategies to encourage eligible households in California to claim their earned income tax credit income support.
"IRLE has been working on these issues for a long time. This project allows us to go deeper on the health effects of a range of government and workplace policies, at a time when the U.S. has cut back on social supports critical to the well-being of workers and their families," Rothstein said.
Other UC Berkeley-based projects include:
A look into the relationship between minimum wages and the rise in the number of Americans dying from suicide, drugs (including opioids) and alcoholism, from minimum wage experts Allegretto and Reich;
An investigation into the effects of San Francisco's paid parental leave ordinance on the city's most vulnerable families, led by Dow, a professor of public health;
Research on how unstable and unpredictable scheduling practices in retail jobs impact child-care stability for families, by Schneider, a professor of sociology.
Policies for Action is a signature research program of the Robert Wood Johnson Foundation administered through the national coordinating center at the Urban Institute. P4A's research investigates public and private policies to explore the root causes of health disparities in America, and identify potential solutions to improve health, well-being, and equity.
The Institute for Research on Labor and Employment at UC Berkeley connects world-class research with policy to improve workers' lives, communities and society.