A research experience to smile about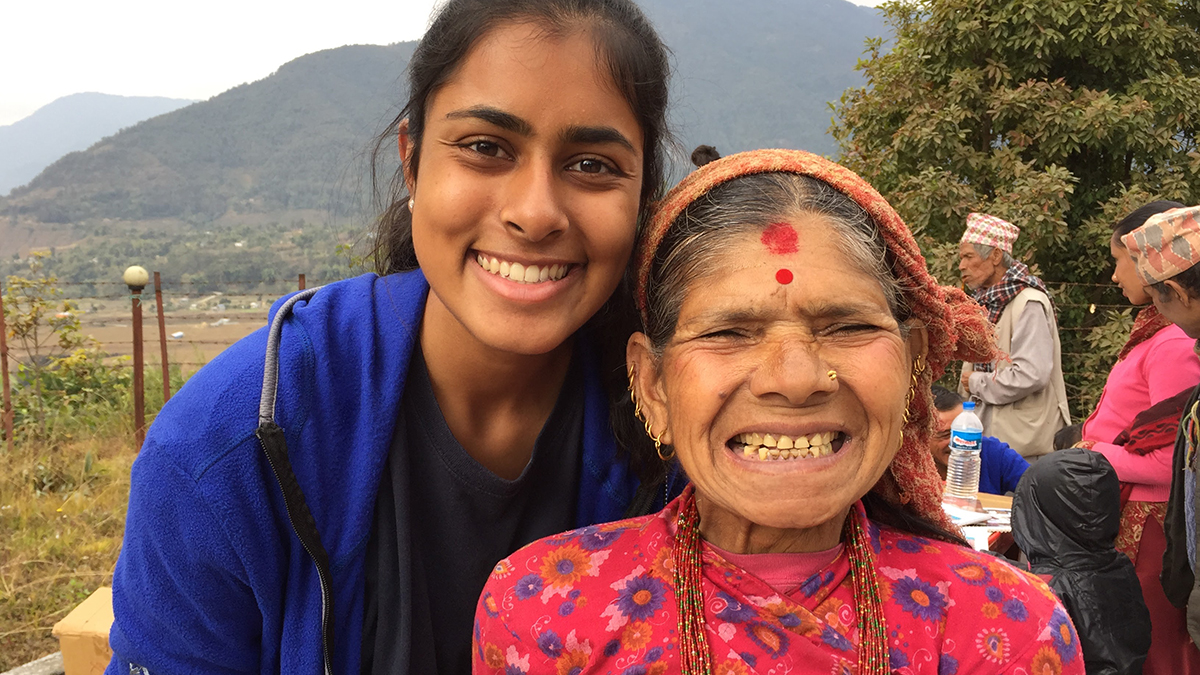 The villages that Neha Zahid was traveling to in Nepal are not easy to find. Up a massive hill, removed from modern conveniences, Puranchaur and Hansapur are home to about 7,000 people, mostly impoverished, at least in part, due to their remoteness. And yet, even here in rural Nepal, Zahid saw roadside food stands stocked with processed snacks and soft drinks.
"They don't have access to important health services but they have access to junk food," Zahid said. "The Pepsi truck can drive up this hill, but the community can't get what they really need."
Easy access to junk food has created an oral health crisis in villages like these. Rotten teeth, dental pain and malnutrition are common here. Zahid, a junior double major in public health and molecular biology at UC Berkeley, came here in the winter of 2016 with a UC Berkeley-UCSF team of Karen Sokal-Gutierrez, a medical doctor and professor in the UC Berkeley-UCSF Joint Medical Program, in collaboration with a local Nepali non-profit organization, Jevaia Oral Health Care, to teach proper nutrition and oral hygiene, provide basic preventive dental care and emergency treatment, and measure indicators of oral health and nutrition in the local children and families.
Hands-on research experiences like these have become a hallmark of the Berkeley undergraduate education, where students are participating in discovery experiences that are the very essence of research.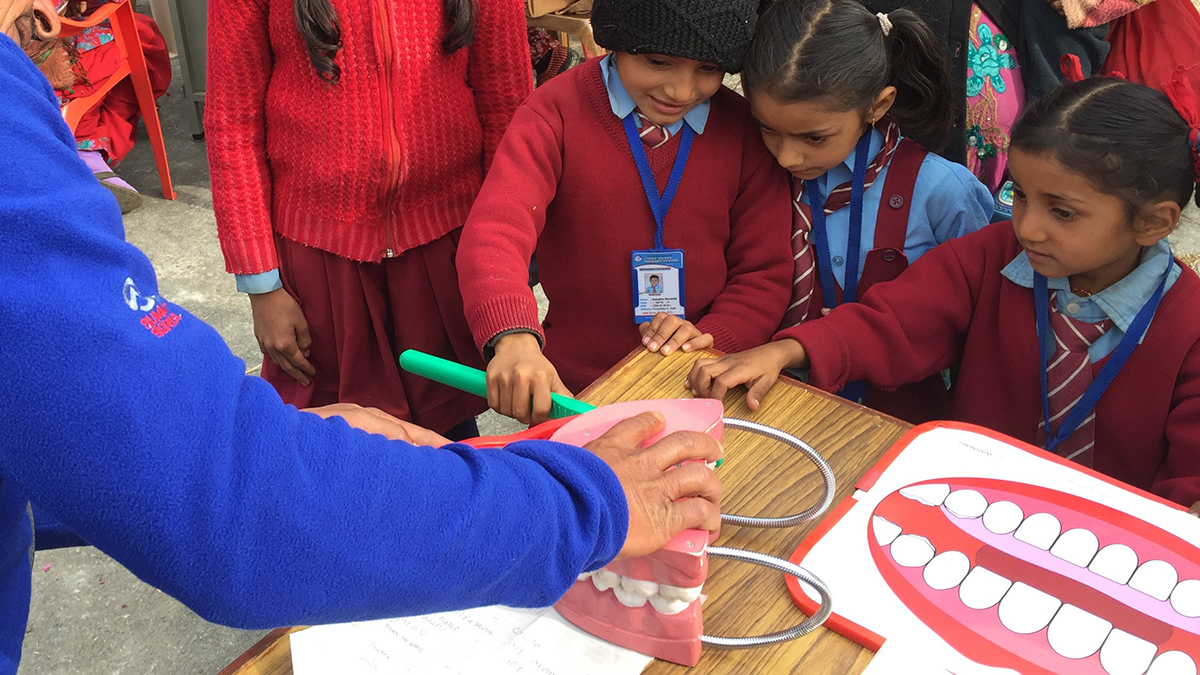 Back when she was a freshman molecular biology major with medical school aspirations, everything Zahid studied was microscopic, so connecting classroom lessons to the outside world was a struggle. She was interested in public health but had only taken one public health class, so she sought out a summer research project to help her figure out if public health work matched her interests.
She found Sokal-Gutierrez, a pediatrician and leading expert in the field of nutrition and oral health in developing countries, who runs the Global Children's Oral Health and Nutrition program, which she founded in 2004 after noticing an epidemic of tooth decay in children in rural El Salvador (For more on Sokal-Guiterrez's work, read this Berkeley News feature story from 2012). With 14 years of experience coordinating nutrition and oral health interventions for underserved communities around the world, and published research on the success of these interventions, Sokal-Gutierrez's research seemed like the perfect blend of service and research that Zahid was seeking.
Zahid joined Sokal-Gutierrez's team at the beginning of her sophomore year doing data cleaning and entry, and reviewing the scientific literature on children's nutrition and oral health. The following winter she traveled to Nepal with the team for two weeks. Like the hundreds of students that have worked with the team since its inception, Zahid raised her own funds to cover airfare and other costs for the trip. Zahid assisted the team in serving hundreds of children and adults—teaching toothbrushing, weighing and measuring children and adults, working with dentists to record the dental exams, and performing surveys.
"Working closely together in the field, I got to see Neha shine," Sokal-Gutierrez said.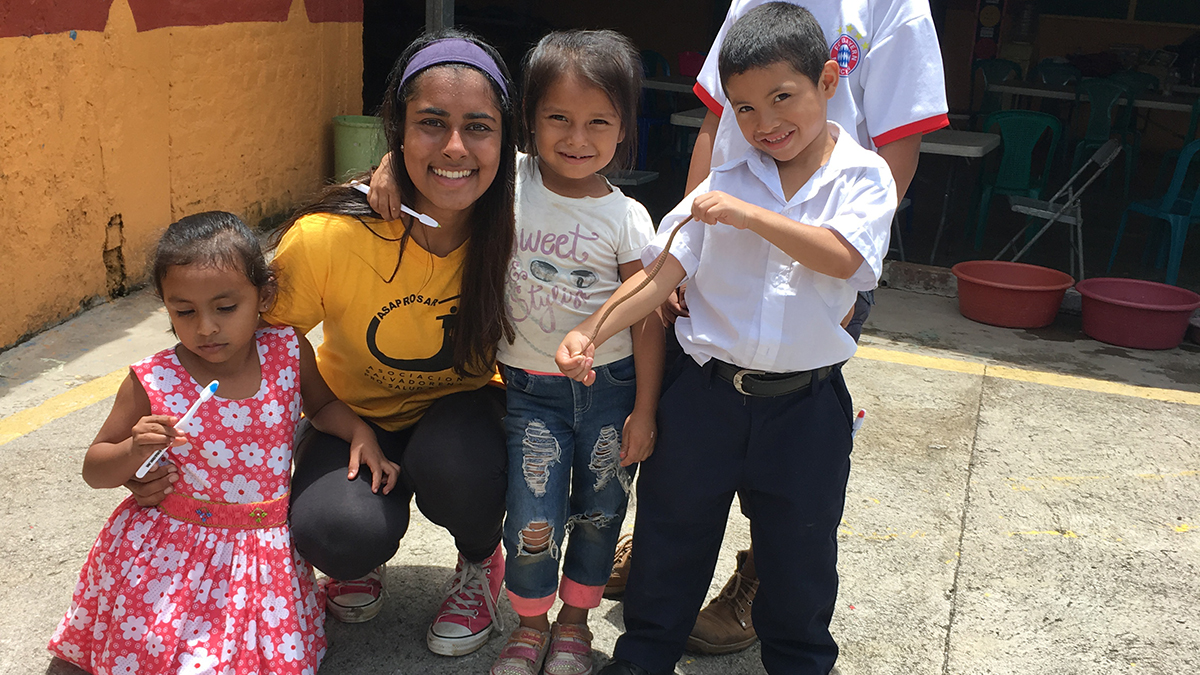 Based on her research experience and Sokal-Gutierrez's recommendation, Zahid was awarded a prestigious fellowship in the Undergraduate Research Apprenticeship Program for the summer of 2017. For her fellowship, she returned to fieldwork, this time for four weeks in El Salvador. The team, which included Sokal-Gutierrez, Berkeley graduate Claudia Campos, and Berkeley students Priyanka Achalu, Andrew Chang, Ibrahim Ramoul, and Nikki Sherry, worked in collaboration with a Salvadoran non-profit health organization called ASAPROSAR to conduct the nutrition and oral health intervention as well as focus groups with mothers to learn more about their family's nutrition and oral health. Zahid helped develop focus group questions, worked with the team to collect and analyze the data in the field, and explored new risk factors, such as gender differences.
These interventions have a history of success. In 2016, Sokal-Gutierrez published a study on their interventions on 886 children in El Salvador from 2006 to 2010, which found that incorporation of a community oral health education and fluoride supplementation program contributed to significant reductions in cavitated lesions, called caries, (from 74 to 61 percent) and mouth pain (from 58 to 39 percent), in children 3-6 years of age. Data on their interventions in Ecuador found similar improvements in tooth decay and mouth pain, but also a 39 percent decrease in stunting malnutrition.
The mixture of quantitative data from the dental camps and qualitative data from the focus groups introduced Zahid to the unique powers of each in telling a complete story about a community's health.
Now entering the spring of her junior year, Zahid is coordinating the student team that's returning to Nepal in December, and is poised to be the lead author on at least one research publication stemming from her research experiences.
"I believe that she will continue on a trajectory to become a leader in public health and medicine, in the U.S. and globally, especially for underserved populations," Sokal-Gutierrez said.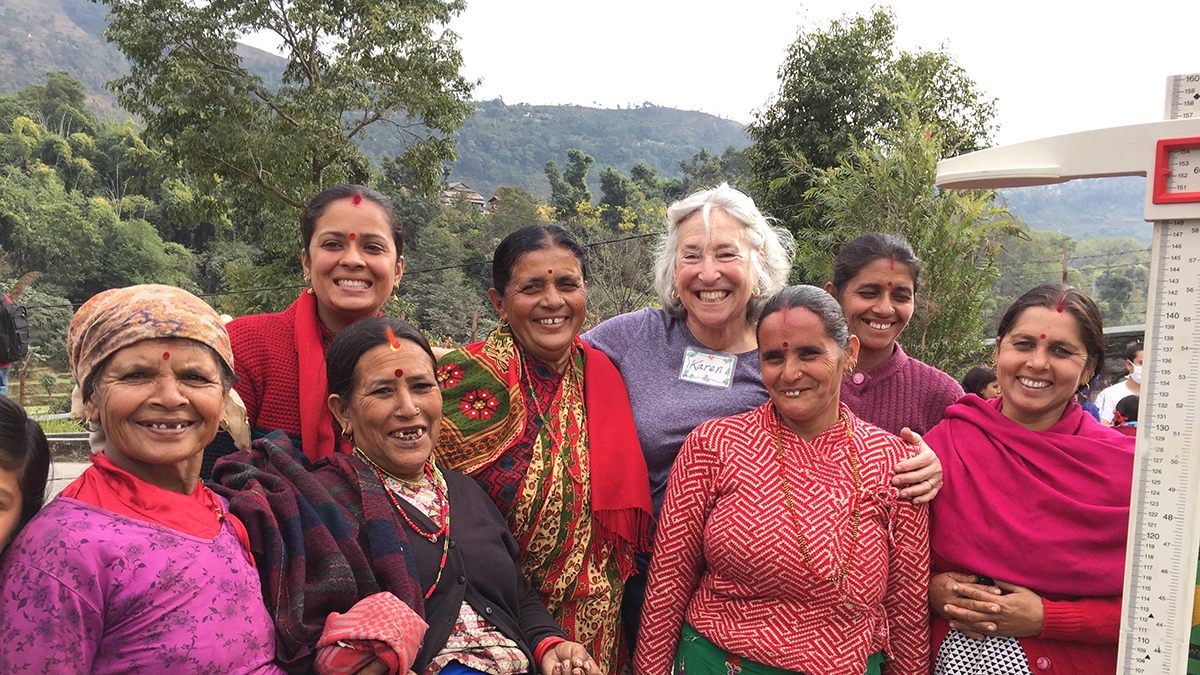 Zahid still sees medical school in her future, but not right away. She plans to continue public health work in the short term, possibly through a master's degree in public health. When she does go into medicine, she wants to focus on a field that has an impact on public health. This has a been a revelation about her career interests that was only possible by diving into a research project head first to see if it was a good fit for her. It's an experience that she encourages other Berkeley students to take advantage of.
"Research was a way for me to understand what I'm really passionate about," Zahid said. "I'm now a double major because my research experience opened my eyes to the importance of interdisciplinary work. Research is a really great way to learn about your interests that you might not discover just based on the classes you are taking."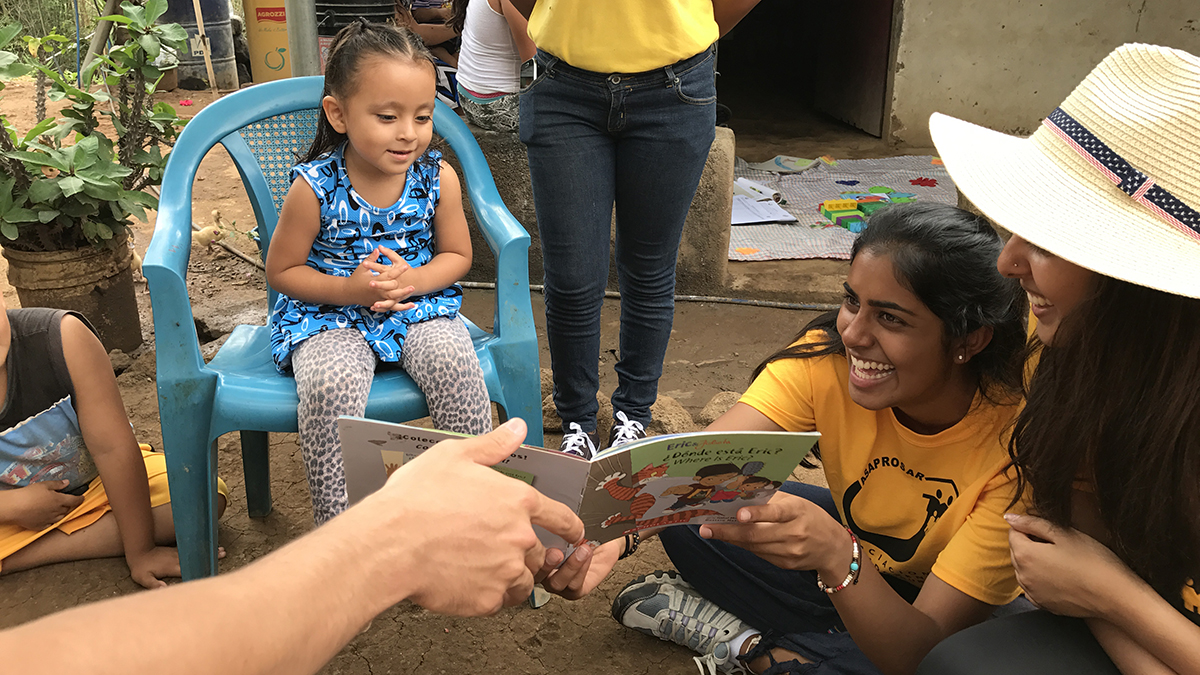 Despite the many challenges of working in the field—cold and warm weather, long days of work, bumpy bus rides to rural sites, different food and beverages, and pressing crowds of children and families—Zahid cherished the experience.
"The work we do is an ideal example of a public health intervention on a community scale, but the lessons we learn from people who live in the community are far more heartfelt and personal than what I could have expected," Zahid said.