Public-health expert's work to understand bullying 'puts a fire in me'
Paul Sterzing had barely moved into his office at UC Berkeley when the New York Times, theWashington Post, Reuters and CNN started calling. The newly hired assistant professor's just-published study – showing nearly half of U.S. adolescents with autism spectrum disorder have been bullied at school – had propelled him into the media spotlight.
His first mistake was eyeing readers' comments under the online news articles. "Duh, tell me something I didn't know," was a common theme. "Science provides a factual basis for beliefs and assumptions," Sterzing says, shrugging his shoulders.
And just as many, if not more, commenters revealed they'd been bullied, too. Clearly, the study had touched a nerve.
"I read the article in the New York Times about bullying, and it made me cry," a Berkeley colleague confided to him in an email. "As a child I stuttered terribly and was bullied all through elementary and junior high school … when I remember back to those instances, my heart pounds and my stomach feels sick just like it used to when it was happening."
Though the findings, published Sept. 3 in the Archives of Pediatrics and Adolescent Medicine, may not come as a surprise to some, this is the first time that the victimization of children with autism has been quantified on a national scale, and is thus contributing to a debate over whether cameras should be installed in classrooms, and how to strengthen anti-bullying interventions, laws and policies.
"Many people knew from their experience that these kids were bullied, but they didn't know some of the factors that put them at more or less risk for victimization, perpetration, or being a bully/victim," says Sterzing about the study results.
According to the study, adolescents most vulnerable to bullying are those with a combination of autism spectrum disorder, attention deficit hyperactivity disorder (ADHD) and whose schooling takes place in a regular classroom where their social or conversational quirks may turn heads.
"The results make a strong case for tailoring school-based bullying interventions to the needs of adolescents with autism spectrum disorder and with ADHD," Sterzing says. "Interventions should not just focus on punishing bullies, but help kids with autism spectrum disorder improve their conversational and social skills so they are less likely to be targeted."
With a wealth of data garnered from a longitudinal study on youth in special education that is being analyzed by his Washington University co-author, Paul Shattuck, along with 125 interviews that Sterzing conducted with lesbian, gay, bisexual and transgender (LGBT) youth for his dissertation, Sterzing is studying the complexities of bullying from a public-health perspective.
Among other things, he wants to know why some kids are targeted more than others, and why bullies are frequently popular with their friends. He is also testing his own hypothesis that kids who are bullied and bully others have worse mental-health outcomes than kids who are exclusively perpetrators or victims of bullying.
More studies based on Sterzing's data are forthcoming. "There's a whole lifetime of research here," he says.
The issue is close to his heart.
A native of Crivitz in northeastern Wisconsin, Sterzing experienced bullying firsthand in a small rural town where generations of his family worked in the lumber industry. After high school, he entered academia, earning a bachelor's and master's degree at the University of Wisconsin-Madison, followed by a doctorate in social work at Washington University.
Initially, he sought to focus his work on drug and alcohol abuse. But when he saw how a younger male cousin, 16 years his junior, was being ostracized and bullied in junior high school, he was reminded of his own childhood struggles, and sought to study the scope of bullying and its long-term mental-health impacts, especially on LGBT and other vulnerable youth groups.
For example, he says, nearly 40 percent of the LGBT youth he interviewed reported some form of emotional abuse: "These were not foster kids, but kids in regular homes," he says. "There's a story to be told. It puts a fire in me."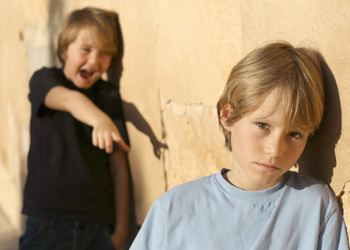 What stood out in his research was the association between child abuse and neglect at home, and bullying victimization at school. "Victimization at home puts LGBT youth at risk for mental-health problems that impact their peer relationships and increase their likelihood of being bullied," he says.
Sterzing acknowledges a common movie theme in which the mean boy or girl gets his or her comeuppance. But in reality, he says, the power dynamic between the bully and the victim does not always shift. In fact, Sterzing has heard from people who say they were bullied in elementary through high school and continue to be bullied in the workplace.
The dynamics of bullying, whether you're a perpetrator, victim or both, are complicated and multidimensional, Sterzing says, "but that doesn't mean we shouldn't struggle to find solutions to this important public-health problem."
"We need to identify the reasons why some groups of kids are consistently more likely to be victimized than others," Sterzing adds. "I want to help those most vulnerable to this form of peer aggression."  
Happily for Sterzing, the powerful reaction to his study suggests he's on the right path.