Probing the depths of poll work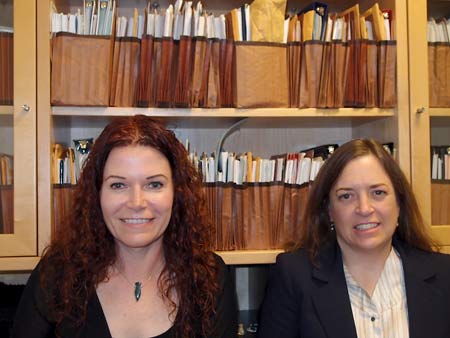 About a million Americans — 100,000 of them in California  — will spend Election Day as poll workers. Karin Mac Donald and Bonnie Glaser, director and research specialist, respectively, at Berkeley Law's Election Administration Research Center, say it's a role that's stressful and underappreciated.
They should know. Since EARC's inception in 2005, the two researchers have been looking at what it takes to conduct a fair, accurate and transparent election — and sharing EARC's findings in the form of technical assistance to election officials (many of whom they know on a first-name basis) and outreach to the public.
The NewsCenter sat down with Mac Donald and Glaser recently to get their perspectives on the election process.
You've spent many years studying poll work. Why?
KM:  We started EARC with a big project looking at, and helping to improve, poll-worker training in California. That's not something that makes people jump out of their chairs and say "How exciting!" Researchers typically want to look at something that's really juicy and headline grabbing. We've been in the trenches studying poll workers; it's really where the rubber hits the road. Poll workers control the ballots; they have a lot of power.
In a perfect world, every voter would get the proper ballot, every voter would be subject to the same election laws. But in this decentralized election-administration system that we have in the U.S., you see a lot of variation between the states, and counties, and even from polling place to polling place, as to how poll workers are being trained, how their mission is being described to them. Once we began looking at this closely, we were hooked.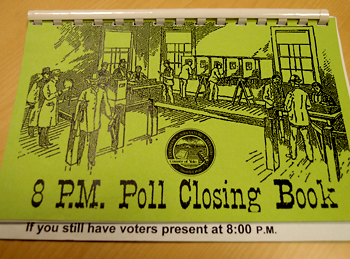 Who gets trained to be a poll worker?
KM:  We discovered that there's a hierarchy at each polling place.  Some have an inspector who's in charge of the polling place. That person may have a judge, the second in charge, and then clerks and maybe translators. In some counties only the inspector gets trained; in some the inspector, the judge and the clerks get trained.
BG:  To train poll workers you get an hour, basically, maybe two if you're lucky. It's a lot to do in an hour: make them feel comfortable, make them excited, make them feel a certain amount of confidence, such as how to use the voting equipment and the reference materials.
And haven't the ground rules for elections been in quite a bit of flux?
KM:  Yes. In California, one day we had voting machines and certain kinds of primaries, the next day — because of law changes and the secretary of state's decertification of the machines — we didn't.  
Or look at current voter ID requirements around the nation. Who implements them? Poll workers. So if there's a last-minute court order stopping the ID requirements, you need to go back to your poll workers and tell them that the policies and procedures have changed. That's easier said than done. Do you have the time and resources to revise your written materials? Is there a phone number that poll workers can call on Election Day if they have questions? There's just a lot of issues.
To what extent has election administration been studied?
KM:  Election administrators were being studied left and right after the Florida debacle in the 2000 presidential election. Researchers would publish articles, in academic journals or in the media, just slamming election administrators — rather than trying to understand what it is about the job that creates problems.
We ask a lot from poll workers. Whenever I've worked as a poll worker, I've always been really stressed out. Yes, they get a little stipend, but it's not even minimum wage. Your hours at the polling place are long; it can be cold and uncomfortable. We expect them to know the election laws; we assume they understand their mission and what they should be doing.
We at EARC have a good relationship with election administrators around the state. That's in part because we've worked in election offices as poll workers, as rovers, we've taught, created trainings, in different counties. We learned about the challenges from their perspective.
How can you study poll workers if you've never been a poll worker — if you've never sat there from 6 in the morning until 9 or 10 at night, and struggled through these mountains of papers? If you want to learn it, you have to roll up your sleeves.
So you've visited all 58 California counties in your work?
BG:  We've been to most of them, and those that we haven't visited, especially the really small ones like Alpine County, which has around 800 registered voters, we've talked to on the phone.
KM:  Some, like Alpine, are so tiny they don't have polling places. Their registrar of voters might call someone up and say, "Did you get a chance to vote? I don't see your ballot here."
And California just started offering online voter registration?
KM:  Yes, on Sept. 19 — just a month and a half before this huge election coming up. If you're an election administrator, that's your day in hell, when there's a huge policy change right before an election, with everyone looking, instead of before a little election, so you can refine your training materials and figure out how to implement the new policy.
What kind of issues do you anticipate at the polls on Election Day?
BG:  In California there are going to be problems. You could register up to Oct. 22, including online. About a million Californians used the online registration site; it was extremely popular. And it's going to be impossible for the counties to get their rosters printed with an accurate, up-to-date set of names of those eligible to vote at each polling precinct.  
KM:  And remember, this is the first time we've voted since redistricting — besides the June primary, which had very low turnout. After the legislative districts are redrawn, counties redraw their precinct boundaries. As a result, some people may be asked to vote in a new location, which can also be confusing.
BG:  So for people who registered close to the deadline, they will be listed on a supplemental roster, which needs to be mailed or delivered, for use at each precinct and polling table. I'm planning to be a poll worker in Contra Costa County. Before Election Day, I have to go meet someone who's going to deliver supplemental materials.
So we know there's going to be a lot of provisional ballots in California. Luckily, most provisional ballots get counted in this state — I believe around 90 percent. In a lot of other states, the percentage is much lower. In California, provisional ballots submitted anywhere within the county where the voter is registered can be counted.
KM:  Provisional ballots is one of the big issues to watch in the national election, in terms of voter access and voting rights.
Haven't there been calls for international delegations to observe the U.S. election?
KM:  Yes. The U.S. State Department invited international observers from the OSCE, the Organization for Security and Cooperation in Europe. The observers picked a few states to visit, Texas among them. That's a good bet, because it's a big state, with a voter ID law, etc. But Texas has issued some stern warnings, telling observers they might get prosecuted. Why wouldn't you have observers? Come on and watch, by all means.
BG:  That's what we all learned in 2000: Transparency is a great value. Other than how you actually voted, it all should all be open and public.
What's the best adjective to describe your feelings about the upcoming election?
KM:  Worried. There are a lot of moving pieces. We're concerned about provisional ballots, and voter ID laws. And we're all worried about Ohio.
BG:  Uncertain. Around the country a lot is going to be decided in court. There will be a lot of process issues — voter ID laws, malfunctions with equipment, different practices in different parts of the state and country.
There are people who think all election administrators are bad, that they can be bought by the campaigns. We've seen enough of what they do, and how hard it is, that we don't see them that way. We see them as trying to do their best to be accurate and transparent.
KM:  We know many of the California election administrators well. Some of them have been doing it for long time and do a really good job. Hats off to them. The registrar of voters is sometimes the county clerk, too. Sometime they have other jobs, like treasurer and assessor. I'm still looking for a registrar who's also the coroner.