Podcast explores UC's pivotal role in California history
In 1929, a young physicist named Ernest Lawrence was going through physics periodicals in the UC Berkeley library when he came across a diagram in an obscure technical journal.
The diagram was of a common particle accelerator, but with an upgrade: instead of a single jolt of electricity, particles would receive several jolts as they traveled along the tube. It gave Lawrence an idea: you could accelerate particles in a circle. It's a discovery that would change his life — and the course of history of the 20th century.
The story of how the atomic age got its start at UC Berkeley — with the creation of the Cyclotron — is the subject of the fourth episode of One Bold Idea, a six-part podcast series that tells stories of the University of California's role in pivotal moments in California history that have shaped the world. Episodes span topics from the arts, health, agriculture and technology. It's part of a year-long celebration of UC's 150th anniversary.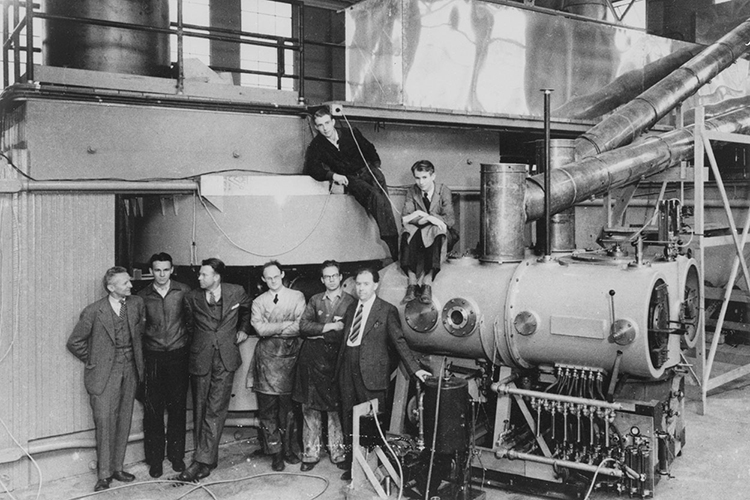 Other episodes include stories about how UCLA created a treasure trove for film and TV lovers, how a UCSF oncologist and his colleagues pioneered a new model of care that changed the course of the AIDS epidemic and how scientists saved the wine industry. The final episode, to be released April 27, will feature a UC Berkeley alumna and political activist discussing the 1980s student-led push for divestment from South Africa during Apartheid.
One Bold Idea, hosted by UC Santa Cruz alumna Shuka Kalantari, is produced by the UC Berkeley Advanced Media Institute in collaboration with the University of California. You can listen to the podcast on SoundCloud and subscribe on iTunes or Stitcher.
Learn more about UC's 150th anniversary and explore aninteractive timeline of UC's history.
See photos from Berkeley's Charter Day celebration on Berkeley News.