Pilot program to bolster biophysical sciences' innovation pipeline

UC Berkeley is launching a pilot program to help early-career faculty commercialize innovative research discoveries and bolster ongoing campus efforts to turn pioneering science into practical results.
Beginning this month, the Bakar Fellows Program will target faculty research projects with a high degree of commercial promise across the fields of engineering, computer science, chemistry and biological and physical sciences, with the goal of guiding more discoveries from the research lab to the marketplace.
The initial pilot phase of the program will support two groups of early-career faculty researchers with discretionary research funding of $50,000 per year. Five fellowships will be awarded in 2012, and another five in 2013.
"Turning knowledge into real-world solutions is an important component of the work that many of our outstanding researchers do every day," says Berkeley Vice Chancellor for Research Graham Fleming. "This program directs support toward faculty who are poised to make important discoveries early on in their career."
The benefits of investing in promising research are illustrated by the successful work of Berkeley's Jay Keasling, a professor of chemical and biomolecular engineering who will serve on one of two program advisory committees.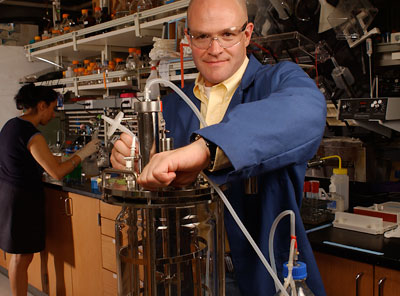 A pioneer in the emerging field of synthetic biology, Keasling genetically engineered yeast cells to produce the anti-malarial drug artemisinin. Today, the semi-synthetic compound — a product of cutting-edge research backed by public-private support — is being used to tackle a global health problem that afflicts roughly 250 million people every year.
Having launched the biotech startup Amyris to scale up the bioengineering of the anti-malarial drug, Keasling and his team are developing the same basic science to produce biofuels, specialized chemicals and other pharmaceuticals.
"The Bakar program will give entrepreneurial, early-career faculty the support to translate their research discoveries to the marketplace," says Keasling. "I wish this program had been available during the early stages of my career."
The launch of Bakar fellowship represents the latest in a series of campus-driven initiatives to strengthen Berkeley's pipeline of innovation and enterprise as a critical driver of economic growth in California.
Berkeley's newest startup incubator became fully operational in 2012. Skydeck, which houses a mix of ventures co-founded by Berkeley faculty, students and alumni, aims to forge a hotbed young entrepreneurs anchored in the East Bay.
In 2010, the California Institute for Quantitative Biosciences at Berkeley launched the startup incubator QB3 Garage@Berkeley to help Berkeley researchers commercialize their bioscience discoveries. Last year, QB3 established the 9,300-square-foot East Bay Innovation Center, which provides wet-lab and office space and support functions specifically designed for biotech, clean-tech and other cutting-edge technology startups.
In targeting research in the biophysical sciences, engineering and computer science, the Bakar program will connect early-career faculty to an entrepreneurial ecosystem of campus and industry advisers with the knowledge and experience to guide fellows in bridging the gap from lab to marketplace.
Throughout the course of the fellowship, researchers will work closely with a network of faculty and staff at the Lester Center for Entrepreneurship, the Fung Institute for Engineering Leadership and the Office of Intellectual Property and Industry Research Alliance.
Bakar fellows can also take advantage of the enterprise facilities and infrastructure at Berkeley Skydeck, which provides 10,000 square feet of premium office, conference and event space in the heart of downtown Berkeley.
Open to tenure-track faculty at the assistant and associate professor level, the program will be administered by the Office of the Vice Chancellor for Research, with an academic advisory committee evaluating fellowship proposals in consultation with a panel of industry experts.
Berkeley professors Jennifer Doudna (chemistry, molecular and cell biology), Paul Gray and Tsu-Jae King Liu (electrical engineering and computer sciences) and Alex Zettl (physics) will join Keasling as members of the academic advisory committee.