Nobel Prize winner to join UC Berkeley faculty
Nobel Prize-winning physicist Eric Betzig and world-class biophysicist Na Ji will join the UC Berkeley faculty in the summer of 2017. Concurrent with their hire at UC Berkeley, Betzig and Ji will have joint appointments and research programs at Lawrence Berkeley National Laboratory (Berkeley Lab) as faculty scientists in the Molecular Biophysics and Integrated Bioimaging Division of the Biosciences Area.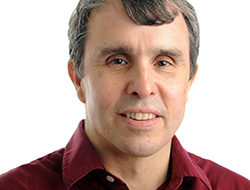 A self-described inventor with a physics education, Betzig won the 2014 Nobel Prize in chemistry for his work to surpass the theoretical limitations of high-resolution microscopes. Betzig was awarded the prize for developing super-resolution fluorescence microscopy, which allows scientists to look inside cells and visualize the pathways of individual molecules, including those involved in disease.
Betzig comes to UC Berkeley from the Howard Hughes Medical Institute's (HHMI) Janelia Research Campus in Ashburn, Virginia. He decided to join Berkeley because it is a hotbed of science and engineering research, and there's a buzz on campus that he finds inspiring, he said. He will help lead new initiatives in imaging technology at UC Berkeley, particularly at the intersection of physics and biological sciences, and he's also looking to expand into new areas of research.
"I can't think of a better place on earth to be in terms of the breadth of study in science and engineering than UC Berkeley," Betzig said. "I'm looking for a new challenge, and Berkeley is the perfect place to find the new directions that I'm looking for."
UC Berkeley has a long history of training, fostering and attracting Nobel Prize winners due to the creative and open research environment on campus. The university has produced 29 graduates who are Nobel laureates and 22 lifetime faculty members who are Nobel Prize winners. Betzig will become UC Berkeley's eighth active faculty member who has won a Nobel Prize.
"This is thrilling news," said UC Berkeley Chancellor Nicholas Dirks. "Professor Betzig's decision is compelling evidence that Berkeley's unique blend of comprehensive excellence across a vibrant, multi-disciplinary research enterprise, along with an unshakeable commitment to advancing the greater good, is and will remain a powerful magnet for the leading scientists and scholars of our time."
Berkeley Lab Director Michael Witherell said, "We're elated that Eric and Na have agreed to join Berkeley Lab as well. Their groundbreaking work will add to the strength of the Lab's Biosciences Area."
Betzig will join the UC Berkeley faculty as a professor in the Departments of Physics and Molecular and Cell Biology and as a member of the Helen Wills Neuroscience Institute. He earned a B.S. in physics from Caltech and an M.S. and Ph.D. in applied and engineering physics from Cornell University. Betzig will spend his first year at UC Berkeley on sabbatical, exploring ways to take advantage of multiple recent breakthroughs in the field of microscopy in collaborations with his new colleagues, as well as talking with faculty across campus to identify new research opportunities. He will maintain an appointment as an HHMI Investigator and as a senior fellow at the Janelia Research Campus while a faculty member at UC Berkeley.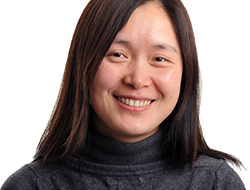 Na Ji, a distinguished biophysicist also coming from HHMI's Janelia Research Campus, is joining the UC Berkeley faculty as an associate professor in the Departments of Physics and Molecular and Cell Biology. Ji studies optical imaging technology development and its application in neurobiology. She earned her Ph.D. in chemistry from UC Berkeley. Ji has made major advances in sharpening microscopy images using adaptive optics, first developed for telescopes, for the study of the activity of neural circuits in the cerebral cortex.
"I had my graduate training at UC Berkeley, which transformed me into the scientist that I am today, so coming back to Berkeley is really a homecoming for me," said Ji, who is married to Betzig. "I love the idealism and freedom of thought at Berkeley, and am looking forward to joining the excellent research community here."
"Both Eric Betzig and Na Ji have excelled in utilizing their deep understanding and technical mastery of physics and chemistry to drive fundamental new discoveries in the life sciences," said Steven Boggs, chair and professor in the Department of Physics. "Faculty and students from across the sciences and engineering are thrilled to welcome them both to Berkeley."
Betzig, along with Stefan Hell of the Max Planck Institute for Biophysical Chemistry and William Moerner of Stanford University, were awarded the Nobel Prize in chemistry for bypassing the presumed scientific limitation that an optical microscope can never yield a resolution better than half the wavelength of light, or 0.2 micrometers. Super-resolution microscopy gets around this limitation by actively controlling the fluorescence of subcellular structures to reveal their morphology and dynamics at a resolution up to ten-fold better than this limit.
Betzig first demonstrated his technique, widely known as PALM, or photoactivated localization microscopy, in 2006. It relies upon turning the fluorescence of individual molecules on and off. The same area is imaged thousands of times, with different subsets of widely dispersed molecules glowing each time. Superimposing the positions of all molecules across all images yields a dense super-image resolved at the nanolevel. In more recent work, his technology has allowed scientists to look inside the cells of living organisms with the same precision.
Today, Betzig's PALM technique is used worldwide in biomedical research, such as in observations of how disease-related proteins aggregate and trigger Parkinson's, Alzheimer's and Huntington's diseases. More recently, he has also invented other new microscopes, including one that produces 3D images of the inner dynamics of cells with unprecedented speed and sensitivity.
"This lattice light-sheet microscope has amazing potential bringing biochemistry and live imaging together and might bring Eric another Nobel Prize," said Michael Botchan, dean of biological sciences.
Both Betzig and Ji will lend their expertise to the Helen Wills Neuroscience Institute at UC Berkeley, said the institute's director, Ehud Isacoff.
"The bridges that they will build between the Departments of Physics, Molecular and Cell Biology and the Helen Wills Neuroscience Institute will be tremendous," said Isacoff, who is also a professor of neurobiology in the Department of Molecular and Cell Biology.
While Betzig will collaborate with faculty on the microscopy tools that he developed, both he and Ji will also be involved in new imaging initiatives that have the potential to revolutionize both basic and translational life sciences.
"Having Eric and Na join UC Berkeley will not only be a tremendous addition to our faculty in molecular and cell biology, neurosciences and physics, but it will have a transformative impact on our ongoing efforts to establish a world-class super-resolution live cell imaging center that will serve the entire Bay Area science community and beyond," said Robert Tjian, professor of biochemistry and molecular biology who was president of the Howard Hughes Medical Institute until earlier this month.
In addition to playing a major role in advancing microscopy on campus, Betzig said he also wants to explore research opportunities in areas such as energy storage, nuclear production and space transport.
"What's attractive about UC Berkeley is that it's a place where I can satisfy my curiosity about research in so many different areas," Betzig said.