New Partnership Launches with Meeting at Berkeley Lab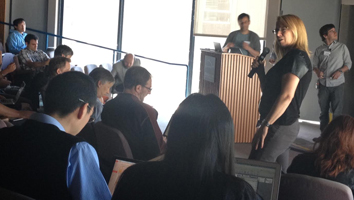 To unite the research strengths of Berkeley Lab, UC Berkeley and UC San Francisco, the three institutions recently announced the formation of the Tri-Institutional Partnership as a means to promote collaborative research among the three institutions.
The partnership's first venture will seed collaborative research projects in neurotechnology. The project was formally launched earlier this year with the announcement of a peer-reviewed competition for teams among the participating institutions to catalyze bold, potentially transformative research in neurotechnology at scale.
On March 13, more than 90 researchers from all three partners convened at Berkeley Lab for "Proposers' Day," to learn more about the seed program, the opportunities provided by President Obama's BRAIN initiative, and especially to share their research ideas and forge new collaborations.
"I was happy to see such a tremendous turnout for our first Proposer's Day. Our scientists were joined by 23 scientists from UCSF and 28 from UC Berkeley," said Berkeley Lab Deputy Director Horst Simon. "This demonstrates to me that the Bay Area scientific community is ready for the tri-institutional partnership in order to address new and interdisciplinary scientific challenges."
Successful "seeds" of the regional program will be calibrated on technical excellence, innovation, and the substantive involvement of the collaborative partners across multiple disciplines. To ensure impact, each project must have a clear path from concept to the development of a competitive proposal for outside funding.
Go here to learn more about the Tri-Institutional Partnership and the BRAIN R&D seed-funding project to support innovative neurotechnology.