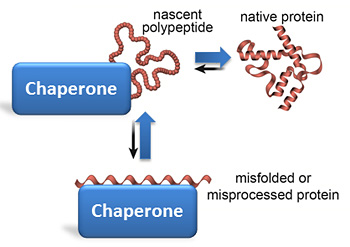 "We think HSF-1 not only makes more chaperones, more doctors, but also insures that the roadways stay intact to keep everything functional and make sure the chaperones can get to the sick and wounded warriors," he said.
The researchers found specifically that HSF-1 up-regulates another gene, pat-10, that produces a protein that stabilizes actin, the building blocks of the cytoskeleton.
By boosting pat-10 activity, they were able to cure worms that had been altered to express the Huntington's disease gene, and also extend the lifespan of normal worms.
Dillin suspects that HSF-1's main function is, in fact, to protect the actin cytoskeleton. He and his team mutated HSF-1 so that it no longer boosted chaperones, demonstrating, he said, that "you can survive heat shock with the normal level of heat shock proteins, as long as you make your cytoskeleton work better."
He noted that the team's results – that boosting chaperones is not essential to surviving heat stress – were so contradictory to current thinking that "I made my post-docs' lives hell for three years" insisting on more experiments to rule out errors. Yet, when Dillin presented the results recently to members of the protein-folding community, he said the first reaction of many was, "That makes perfect sense."
Dillin's colleagues include Milos S. Simic and Suzanne C. Wolff of UC Berkeley, Ana R. Grant of the University of Michigan in Ann Arbor, James J. Moresco and John R. Yates III of Scripps in La Jolla, Calif., and Gerard Manning of Genentech, South San Francisco, Calif. The work is funded by the Howard Hughes Medical Institute as well as by the National Institute of General Medical Sciences (8 P41 GM103533-17) and National Institute on Aging (R01AG027463-04) of the National Institutes of Health.

RELATED INFORMATION