New Cal Energy Corps to provide summer internships in sustainable energy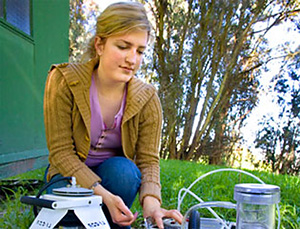 Inspired by the 50th anniversary this year of the Peace Corps, the University of California, Berkeley, is launching the Cal Energy Corps to provide undergraduate internships focusing on sustainable energy and climate change.
The initiative, announced this week, will send more than a dozen undergraduate students to places around the world for six- to eight-week summer internships during which they can contribute to real world alternative and sustainable energy projects and learn about careers on the energy frontier.
"The Cal Energy Corps provides our students with the unique opportunity to help develop and deliver sustainable energy and climate solutions around the world," said Graham Fleming, UC Berkeley vice chancellor for research, whose office sponsors the corps. "It is my hope that this program will train the next generation of researchers and business, industry and political leaders. They will need to have a deep understanding and appreciation for the wide variety of local solutions required to address this important global challenge."
Three projects at the Chinese University of Hong Kong, for example, will immerse UC Berkeley students in a study of the urban heat island effect and research on thin film and organic solar cells. One of three projects at the Indian Institute of Technology in Kharagpur will focus on biofuels from algae, while a program in Bluefields, Nicaragua, will investigate battery recycling.
Other internships will take students to Taiwan, Norway, Canada, Denmark and Washington, D.C., as well as to companies in the Bay Area, to work on projects ranging from hydrogen fuel cells and wind turbines to climate change models and plans for the deployment of electric vehicles.
"The interest we have been able to garner among our program partners around the world is remarkable," Fleming said. "I am confident that we will be able to expand this year's pilot program into an opportunity available to many more students in the coming years."
The internships are funded by the Office of the Vice Chancellor for Research, with partial support from the internship partners in the United States and overseas. The campus is seeking support from private donors and corporations to help expand the 2011 pilot program into an opportunity available to many students in the future.
The Cal Energy Corps provides student participants with transportation and housing costs, as well as with a weekly stipend of $600 for the duration of the internship. All placements are full-time, and applications for the coming summer are due March 7.
Following their internships, students will participate in a campus-wide symposium to share their work and lessons learned.
"I believe we'd be failing our educational mission if we did not engage and inspire the best and the brightest of our undergraduates in this critical area," Fleming said.