New bioenergy magazine designed as public resource for renewable fuels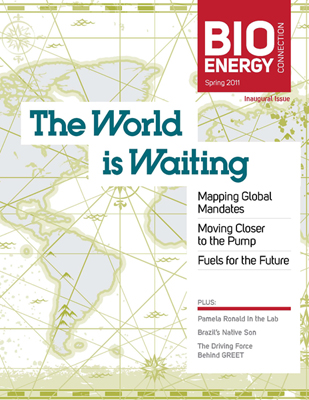 A new magazine, Bioenergy Connection, debuts this month to inform the public and stimulate discussion about the future of renewable transportation fuels around the world.
Published by the Energy Biosciences Institute (EBI), the first issue of the 28-page, twice-yearly magazine contains a cover story – "The World is Waiting" – that summarizes the current international status of biofuel research, development and use.
The EBI is a 10-year consortium of three public research institutions – UC Berkeley, Lawrence Berkeley National Laboratory, University of Illinois at Urbana-Champaign, and the energy company BP. The new publication is created and published at UC Berkeley.
The magazine's goals are to introduce the questions that drive current research, spotlight people who are moving the bioenergy field forward, and provide explanations for a range of issues in terms that will broaden knowledge and understanding by specialists and non-specialists alike.
"As informed participants in the academic side of the bioenergy field, my colleagues and I at the Energy Biosciences Institute are frequently approached by individuals from government, the media, educational institutions and industry seeking to understand at a deeper level the complex issues facing our new field," writes EBI Director Chris Somerville in the introductory letter of the first issue.
"We welcome these inquiries and are always grateful for the opportunity to provide analysis and understanding when we can and to learn from the issues raised and the dialog that ensues," he said. "In response, we have launched Bioenergy Connection in the hope that this new magazine can become a useful summary of contemporary research, emerging policies, and trends in the general field of energy biosciences."
The inaugural articles include an analysis of the path to commercialization of cellulosic biofuels, a special "briefing" pull-out section on sustainability and renewable fuels, an outlook on careers in bioenergy, and a feature on the life-cycle analysis (LCA) of biofuels that includes an interview with LCA pioneer Michael Wang of Argonne National Laboratory.
A complementary website, http://www.energybiosciencesinstitute.org/bioenergyconnection/, is being developed to provide supplemental information on relevant subjects and to enable direct interaction with readers, according to the magazine's editor, Marie Felde, a communications manager and media relations specialist at UC Berkeley for more than 17 years. She said the EBI's expertise will play a major role in framing future directions of the magazine, and that the articles will be "honest, comprehensive and non-partisan."
Now in its fourth year, the EBI includes more than 70 programs and projects involving over 300 scientists and engineers who are exploring the application of biological processes, materials and mechanisms to the energy sector.
To receive a copy of Bioenergy Connection, send an email with your name and address to bioenergyconnection@berkeley.edu.
Please send comments and suggestions about the magazine to Felde at mariefelde@berkeley.edu.