Neurologist Jagust wins 2013 Potamkin Prize for research into cause of Alzheimer's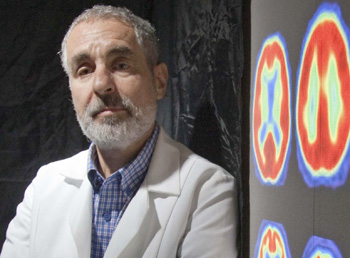 William J. Jagust, an authority on brain aging and dementia, has been awarded the 2013 Potamkin Prize for Research in Pick's, Alzheimer's and Related Diseases by the American Academy of Neurology and the American Brain Foundation.
Jagust, professor of public health and neuroscience at UC Berkeley, will receive the award during the academy's 65th Annual Meeting, March 16-23, 2013, in San Diego. The annual meeting is the world's largest gathering of neurologists with more than 10,000 attendees and more than 2,300 scientific presentations on the latest research advances in brain disease.
The Potamkin Prize honors researchers for their work in helping to advance the understanding of Pick's disease, Alzheimer's disease, and related disorders. The $100,000 prize is an internationally recognized tribute for advancing dementia research.
Jagust is receiving the Potamkin Prize for his research on beta-amyloid, or plaques in the brain, which are a possible cause of Alzheimer's disease. Jagust uses brain imaging techniques in his studies that help outline amyloid protein and its effects on the brain. He works to find biomarkers that will help detect Alzheimer's in people with very mild symptoms or no symptoms at all.
"I am extremely honored to be in the company of so many outstanding scientists who have previously received this award, as well as my co-recipients," said Jagust. "Results from our experiments suggest different ways of thinking about the Alzheimer's disease process and how to best treat it."
Two other scientists will also receive a 2013 Potamkin Prize in March: Michael W. Weiner with the San Francisco VA Medical Center in San Francisco and Eric M. Reiman with Banner Alzheimer's Institute in Phoenix.
The Potamkin Prize is made possible by the philanthropic contributions of the Potamkin family of Colorado, Philadelphia and Miami. The goal of the prize is to help attract the best medical minds and most dedicated scientists in the world to the field of dementia research.