NEI awards $3.2 million for visionary retina research
The National Eye Institute (NEI) has awarded a five-year, $3.2 million grant for a UC Berkeley-led project to map the interaction of retinal cells in an effort to better understand how visual data is processed before it is sent to the brain.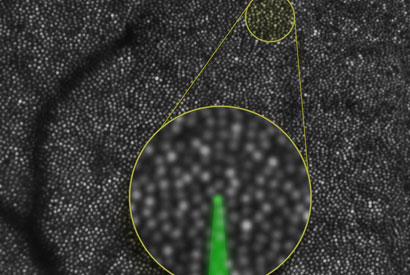 The project is among five awards announced today (Friday, May 1) by the NEI as part of its Audacious Goals Initiative, an ambitious program to catalyze research into treatments for blindness. The focus of the initiative is on restoring sight by regenerating neurons and neural connections in the visual system, particularly in the retina.
The NEI is committing up to $17.9 million over five years for this effort.
Austin Roorda, a UC Berkeley professor of optometry and vision science, is the principal investigator of the retinal mapping project. He will be working with E.J. Chichilnisky and Daniel Palanker, both professors of ophthalmology at Stanford University, and B. Hyle Park, an assistant professor of bioengineering at UC Riverside.
The research team will design a system that can not only map cellular interaction in the retina, but can also help monitor the function in regenerated cells. The system will incorporate eye tracking components and adaptive optics.
"We have entered the research phase of the Audacious Goals Initiative. Projects in this first round of AGI funding will bridge gaps in current technology, enabling later phases of the initiative," said Dr. Paul Sieving, NEI director, in a press statement. Sieving is scheduled to detail the research grants today at the 2015 Association for Research in Vision and Ophthalmology annual meeting.
RELATED INFORMATION