Michael Dear Receives AAG Global Book Award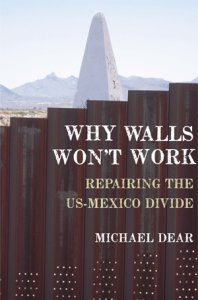 Michael Dear's Why Walls Won't Work: Repairing the US–Mexico Divide, published by Oxford University Press, has been selected by the Globe Book Award Committee to receive the 2013 Association of American Geographers Globe Book Award for Public Understanding of Geography. 
This coveted distinction recognizes one outstanding book published each year that conveys most powerfully the nature and importance of geography to the non-academic world. Michael Dear will accept this award in person at the AAG Awards Luncheon at the upcoming AAG Annual Meeting in Tampa on Saturday, April 12, 2014 beginning at noon.
In his sweeping account of life within the United States-Mexican border zone, this acclaimed urbanist and geographer traces the border's long history of cultural interaction, from the region's numerous Mesoamerican tribes onwards. New forms of interaction evolved into a "third nation" when Mexican and American settlers met at the Rio Grande and the southwest in the nineteenth century.
But as Dear warns in his bracing study, this vibrant zone of cultural and social amalgamation is in danger of fading away because of highly restrictive American policies and the violence along Mexico's side of the border. Through a series of evocative portraits of contemporary border communities, he shows that the potential for revitalizing this in-between nation still remains. Combining a broad historical perspective and a commanding overview of present-day problems, Why Walls Won't Work represents a major intellectual foray into one of the most hotly contested political issues of our era.
Michael Dear is currently a professor of City and Regional Planning in the College of Environmental Design at the University of California, Berkeley.