MCB grad forging new pathways in science, and academia
"Growing up, when I pictured a scientist, I thought of some goofy old white guy with crazy hair and glasses," says Patty Garcia. "I didn't picture women, and certainly never imagined a young Hispanic woman. And a lot of people think of scientists in the same way, even today."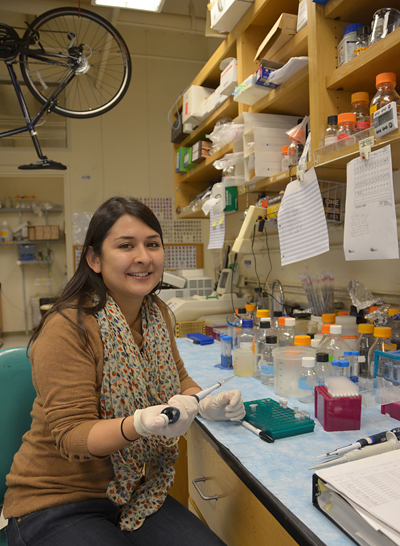 Yet the 30-year-old Mountain View native, whose mother and father hail from Mexico and Peru, respectively, will round out her six-year stint at Berkeley this semester with a Ph.D. in molecular and cell biology. She's polishing her doctoral thesis, has a journal article undergoing pre-publication peer review, and will begin a multi-year postdoctoral research position in immunology at Stanford in the fall.
When Garcia arrived at Berkeley in 2006, she found a campus beginning to reassess its approach to diversity, but lacking any coherent plan or actions — Chancellor Robert Birgeneau had just created the UC system's first cabinet position on equity and inclusion. In 2007, Garcia co-founded the student-run campus chapter of the Society for Advancement of Chicanos and Native Americans in Science.
"The situation is certainly much more progressive now, particularly in my department, so I think it's fair to say we [SACNAS] helped to change the campus for the better," Garcia says. "My hope is that it's a lasting change."
Juggling the demands of her diversity efforts, Garcia honed her research skills under the tutelage of immunology professor Mark Schlissel — former dean of biological sciences and now provost of Brown University — probing the role of specific micro-RNAs in B-cell development and leukemia.
"I really like figuring out how things work, designing experiments to answer questions that will solve the puzzle," Garcia says. "That's one aspect of my work that definitely excites me, and my brain is always puzzling away in the back of my mind to find the answer."
Garcia's love of science has it origins in the rainforests of deepest Peru, where she studied botany at the university level for several years. She traces her passion for diversity, equity and inclusion to Peru as well.
"Living in a third-world country, among people who don't have very much of anything and yet manage to find happiness and community in their lives, really changed me as a person," Garcia says. "That's when I became more in tune with my roots, and the experience really changed my perspective on life and issues of social justice and inequity."
Returning to California, Garcia enrolled at Santa Clara University, where she encountered a role model and mentor, associate professor Angel Islas, who would open a whole new world of academic and career opportunities in science.
"He was the first person who took my hand and guided me through the entire scientific process, from hypothesis to experiment to analyzing results," Garcia says. "That was a critical experience for me — without it, I don't think I would be a scientist today."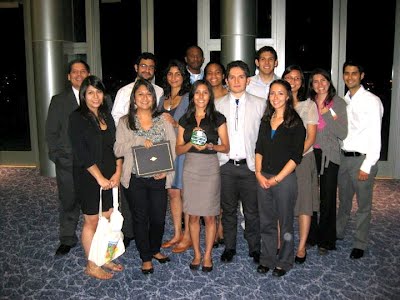 Islas helped Garcia land her first research position as a lab technician and aided his former student in applying to graduate school.
"He has always given me the tools and opportunities to grow and develop — he is my mentor for life," Garcia says.
Looking down the road, Garcia has her eyes firmly fixed on a faculty position at a state university, where she can engage underrepresented communities and pass along her mentor's gift to her by steering new generations of students toward expanded opportunities.
"Promoting the idea of more women and more minorities in science is something I feel is incredibly important for me to bring back to my community," Garcia says.
"I have a 5-year-old niece now," she says, "and I always tell her that she can be a doctor or a scientist or whatever she wants. It's important for her to know she doesn't have to follow a traditional path in life."