Magnes exhibition explores intellectual migration
A new exhibition at UC Berkeley's Magnes Collection of Jewish Art and Life tells the stories of more than 70 scholars, writers and artists – many of them Jewish, related to Jews or political dissidents – who escaped the rise of Nazism and fascism in Europe in the 1930s and '40s and brought their talents and dreams with them to UC Berkeley.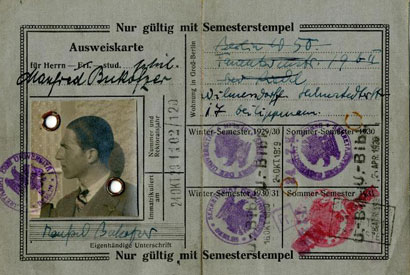 Doing so, they contributed to the campus's global reputation for tolerance, academic excellence and freedom, and public intellectual engagement, say exhibit organizers and historians.
"UC Berkeley was definitely better off for opening its doors to these people who were seeking a home, and it is still benefitting from that today," said Francesco Spagnolo, the lead curator of  the exhibition, "Saved by the Bay: The Intellectual Migration from Fascist Europe to UC Berkeley."
The exhibition tells how the immigrants made new homes in the San Francisco Bay Area and continued, or went on, to garner top awards in a wide range of arts and sciences, while also contributing their unique perspectives to campus debates on issues such as free speech and the Cold War-era Loyalty Oath then required of University of California employees.
Below are snapshots of a few of these migrants who made names for themselves on higher education's western frontier at UC Berkeley:
Vienna native Max Knight (born Max Kuhnel) fled for England the day before the Nazis invaded Austria. He ended up in California, working for a while with the Office of War Information. Then he became principal editor of the University of California Press, where he oversaw the publication of hundreds of books. Knight translated plays by German writer Bertolt Brecht into English, and the works of quirky American poet Ogden Nash into German.
History professor emeritus and authority on childhood Paula Fass, who in her 2011 memoir, Inheriting the Holocaust: A Second Generation Memoir (2011), recalls growing up with Polish parents who survived the Nazi atrocities.
Emilio Segrè was forced by Italy's anti-Semitic laws to abandon his professorship at the University of Palermo. Segrè accepted a post in 1938 at the then Berkeley Radiation Lab. Eight years later he joined the UC Berkeley faculty as a professor of physics and the history of science. In 1959, Segrè and Berkeley colleague Owen Chamberlain won the Nobel Prize in physics for discovering the antiproton. 
Peter Selz, former director of the Berkeley Art Museum/Pacific Film Archive and emeritus professor of art at Berkeley, who was born in Munich in 1919 and came to the United States in 1936. Selz became an expert on German expressionist painting and an historian of American art; he oversaw the planning and 1967 opening of what was then the brand-new Berkeley Art Museum on Bancroft Way.
Spagnolo, who oversaw the exhibition's careful assembly over the past two years, noted its overarching theme of scholars and artists who went "from peril to safety, from exclusion to intellectual prominence."
"Priceless learning opportunity"
Spagnolo worked on the exhibition together with about a dozen undergraduate and graduate students, including the 2012-2013 Magnes Graduate Student Fellow and history student Daniel Viragh. Other students were involved in either a class about the intellectual migration from Nazi Germany, taught by history professor Martin Jay — an authority on Europe in the period covered by the exhibit — or a special Undergraduate Research Apprenticeship Program (URAP) project led by history professor Thomas Laqueur, whose family fled Germany for Istanbul before coming to the United States.
During an opening reception, University of California President Janet Napolitano praised the exhibition's remarkable story and called the collaboration "a priceless learning opportunity."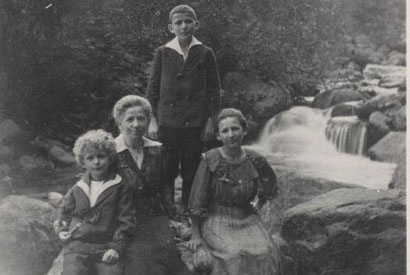 The students and other team members uncovered hundreds of letters, childhood photos, passports, affidavits and professional correspondence as well as personal information in the University Archives, The Bancroft Library, Jean Gray Hargrove Music Library and department records.
A fraction of their finds are featured in "Saved by the Bay." The exhibit features, for example, war-rations books and anonymous hate mail sent to musicologist Alfred Einstein. Visitors can also see a German consult general's rejection of a request to extend a passport, in response to math professor Hans Lewy's three-year suspension when he refused to sign the campus Loyalty Oath. Family photos and a 1985 certificate, awarding Austria's Medal of Honor to Max Knight, are also on view.
The exhibition breaks down the immigrant stories into information about their lives in Europe, their strategies to escape, their lives at Berkeley and their post-war attitudes about Europe. Visitors also can watch a 10-minute film featuring interviews with key people involved in putting the exhibition together.
Personalizing history
Student curator Elena Kempf, a Munich native and third-year history major focusing on modern European political history, said she was already well versed on the history of fascism and Nazism, through school lessons as well as public memorials to victims of the Holocaust, which are widespread throughout Germany. though mostly anonymous.
"More than anything else, this personalized history for me," said Kempf. "It fills another puzzle piece to what is an American story as much as a European one."
One scholar included in "Saved by the Bay" is German-born Alex Zwerdling, an emeritus professor of English. In his 1999 book about four American writers, "Improvised Europeans," Zwerdling pointed out a certain creative freedom found in expatriation and the American capacity for self-reinvention.
Another intriguing aspect of the research for Kempf was tracing personal connections and networks that helped individuals and their families flee Europe. Also striking, she said, is how Berkeley faculty then, and in the 75 years since the start of World War II, have supported intellectuals under fire in many other countries.
The story lives on
Laqueur called the exhibition an early chapter in a story that continues to live on the Berkeley campus.
The exhibition is part of the curriculum of a course taught by Andrea Sinn, a visiting professor of history and German. Sinn has written about German-Jewish experiences during the Nazi dictatorship and the reconstruction of Jewish life.
The Magnes is a repository of art, objects, texts, music and historical documents about Jews in the American West and global diaspora. It is located at 2121 Allston Way in downtown Berkeley. "Saved by the Bay" will remain open through June 27. Gallery hours are Tuesday through Friday from 11 a.m. to 4 p.m. Admission is free.