Law student's book features former Liberian child soldiers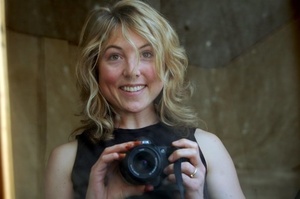 As a former television producer and humanitarian journalist with extensive experience in Africa, Emily Holland '12 was no stranger to tales of hardship and devastation. But over the three years she and co-author Agnes Umunna worked on And Still Peace Did Not Come—which reveals haunting, personal recollections of Liberian child soldiers and their victims—Holland admits "not being fully prepared for the emotional impact of these stories."
From 1989–1996 and 1999–2003, Liberia's civil war killed more than 200,000 people and displaced a million more. A native Liberian now living in Staten Island, N.Y., Umunna fled to relative safety in Sierra Leone. She later returned and hosted a radio program—during which she interviewed victims, warlords, and government officials—and canvassed ghettos and slums to find former child soldiers.
"Agnes convinced many of them to share their stories on the radio and before Liberia's Truth & Reconciliation Commission," Holland said.  "She wanted to help them and their country move forward. The book weaves their memories with Agnes's own unique life story."
A former producer at CNN, Holland later spent four years documenting the International Rescue Committee's work across Africa—writing, shooting, and producing films and articles about its efforts to assist refugees, displaced persons, and other victims of conflict. She has reported on the post-genocide peace efforts in Rwanda with Tom Brokaw, worked on a Don Cheadle documentary film about the crisis in Darfur, and published pieces about Somali pirate hunters, Ethiopian micro-finance entrepreneurs, HIV/AIDS outreach in Kenya, and child labor and trafficking in Liberia and Sierra Leone. 
Holland also worked to tell the stories of resettled refugees seeking to rebuild their lives in the U.S. Before coming to Berkeley Law, she assisted a group of Iraqi heavy metal rock musician refugees who had been persecuted—and received death threats—for playing western rock music in America.
Holland's literary agent contacted her after seeing a New York Times article on Umunna in 2007. "Here was a Liberian woman who had done so much to help former child soldiers in her home country," she said. "Agnes was a true champion, advocate, and mother figure to them. And now, she had come to America to do the very same thing. There are Liberian youth and adults here who are living in the shadows, suffering in silence."
Because Holland had spent considerable time in Liberia, her agent set up a meeting with Umunna, believing a partnership might work for And Still Peace Did Not Come. "We were two women from completely different worlds," said Holland, "who shared a common desire to tell the story of a vulnerable, disenfranchised, and extremely traumatized population."
On Staten Island, Umunna found numerous child soldiers who had neither told their stories nor received counseling for the horrors they both witnessed and perpetrated. The book includes recollections from former soldier and victims in both Liberia and the U.S.
"I'm tremendously honored to have had this opportunity," Holland said. "For me, it all goes back to a fellowship I had in college."
As a 19-year-old undergraduate at Princeton, Holland was one of two students at the school selected for a Princeton in Africa Fellowship. She spent two months working as an intern with the IRC in Rwanda—five years after that country's genocide—helping to monitor the well-being of orphans placed in foster homes or child-headed households, and also assisting the country's National Unity & Reconciliation Commission. "Rwanda was deeply divided, tense and wounded," Holland said, "and the time I spent there was incredibly transformative."
At Berkeley Law, Holland specializes in international law and human rights and teaches street law to youth at a juvenile detention facility through Berkeley Law's Juvenile Hall Outreach program. While busy developing other book projects on human rights issues, she hopes to use her law degree to effect lasting change.
"As a journalist, I could chronicle the workings of a truth commission," said Holland, who has led media trainings for humanitarian aid workers for the United Nations Population Fund, worked on the peace process in Cyprus, and studied South Africa's Truth & Reconciliation Commission. "But I couldn't mitigate a humanitarian crisis or exact restitution and rehabilitation for victims. That's why I came to law school."
Holland works as a research assistant for Professor David Caron '83, president of the American Society of International Law. She said her future career plans have also been shaped by Jamie O'Connell's Transitional Justice class—Holland is working on a book proposal based on a paper she wrote for the course—and a Law and Migration writing seminar taught by Kate Jastram '86.
"They're more than professors," Holland said. "They're friends, mentors, champions, life-changers."