Lab picks Richmond Field Station for a second campus
The Lawrence Berkeley National Laboratory, bursting at the seams of its home next door to UC Berkeley, announced Monday that it has picked the University of California's bayside Richmond Field Station as the site of its second campus.
At a press conference at the station, crowded with jubilant City of Richmond officials wearing blue-and-gold "Richmond Heart LBNL" buttons, lab director Paul Alivisatos said Richmond was selected over five other finalists, including Oakland and Berkeley, because it had the "strongest combination of attributes" to meet the lab's needs into the future  — including the possibility for a renewed and deeper partnership with UC Berkeley.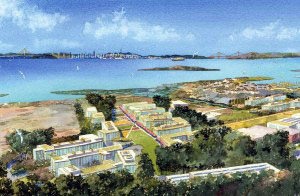 A second campus will allow the Berkeley Lab to bring together its biosciences programs and their 800-plus employees — about 20 percent of the lab's total —  currently operating out of leased spaces around the Bay Area. They include the Joint BioEnergy Institute, now in Emeryville, and the Joint Genome Institute, in Walnut Creek.  A second campus will allow researchers to "achieve a lot more synergy in their science" as well as providing for future lab growth, Alivisatos said.
Berkeley Chancellor Robert Birgeneau said the campus, which already conducts transportation and seismic research at the Richmond site, enjoys a "helpful, symbiotic partnership with the City of Richmond" and looks forward to developing that further. 
"Now, with the addition of the Lawrence Berkeley Lab to the site, we will certainly achieve a critical mass that will make us one of the premier research centers — not just in this county nor in this state but in this country as a whole," he said. In a message to the campus, he expanded on the theme, saying, "This new 'ecosystem' of research and innovation will provide space and resources for the development of incubators and start-ups that can help speed the translation of research discoveries into goods and services that will directly benefit people around the world."
Birgeneau told the press conference that the expanded research presence at the 152-acre Richmond site will allow UC Berkeley to better compete for new federal programs: "Here at the Richmond Field Station, we think we have new possibilities which will open up doors for us that have been closed up to this point." 
The selection will enhance the "longtime, extraordinary history of partnership between the University of California at Berkeley and Lawrence Berkeley Laboratory," he added. More than 200 campus professors have appointments at the lab, he said — he himself is a professor of physics and lab staffer, and Alivisatos is a chemistry professor at Berkeley as well as directing the lab. And more than 1,000 students a year get research training there, he said. A second campus at Richmond will let that work expand.
Elected officials representing Richmond, from Rep. George Miller to Mayor Gayle McLaughlin, City Manager Bill Lindsay and all five members of the Richmond City Council, crowded the room and heightened the celebratory mood. 
The lab is envisioned as a sort of Mission Bay for the East Bay, a gleaming new bayside research center that will generate jobs both in the short and long term, and will encourage development and innovative startups in the economically struggling areas all around it.
"It's just a magnificent day," said Miller. 
"It's not only the jobs that will be created in the Bay Area," he said. "It's also about a signal that this nation is getting ready once again to make this kind of basic investment in research. It is that research that is really the only sustainable source of economic growth — it leads to the innovation, it leads to the jobs."
Alivisatos said the selection process deepened the lab's connections with all the East Bay communities competing for the campus. One message that came through loud and clear, he said, was that "they want their leaders to place a greater emphasis on science education, because that is seen broadly throughout the East Bay as a key to our future." As a result, the lab will redouble its efforts to build partnerships with East Bay communities, he said. 
Site selection kicks off a long process of planning and environmental review, both of which will invite public participation and comment, as well as the effort to secure financing, Alivisatos emphasized.  
"It's just the beginning of a journey," he said, adding later: "I'm optimistic we'll be back here in 2016 opening the doors to the campus, and it's going to be very exciting."