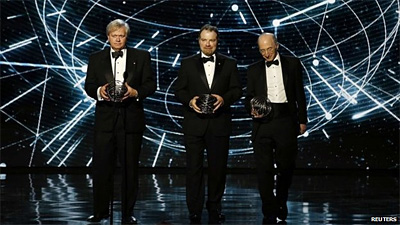 Perlmutter and his Supernova Cosmology Project team received the award for their co-discovery of the accelerating expansion of the universe and dark energy. Riess and Schmidt represented a large team of researchers with the High-Z Supernova Search Team, including UC Berkeley astronomy professor Alex Filippenko, who was also part of the Supernova Cosmology Project. Riess was a Miller postdoctoral fellow working with Filippenko when the cosmological results were announced in 1999.
Doudna, who holds the Li Ka Shing Chancellor's Chair in Biomedical and Health Sciences, is a professor of molecular and cell biology and chemistry as well as a Howard Hughes Medical Institute investigator and Lawrence Berkeley National Laboratory scientist. Perlmutter holds the Franklin W. and Karen Weber Dabby Chair in Physics at UC Berkeley and is a faculty scientist at Lawrence Berkeley National Laboratory.
The annual Breakthrough Prizes, which include a trophy and $3 million to each laureate in fundamental physics, life sciences and mathematics, are sponsored by Google co-founder Sergey Brin and his wife, Anne Wojcicki, a founder of the genetics company 23andMe; Alibaba Group founder Jack Ma and his wife, Cathy Zhang; Russian entrepreneur and venture capitalist Yuri Milner and his wife, Julia; and Facebook founder Mark Zuckerberg and his wife, Priscilla Chan. The goal is to celebrate scientists and generate excitement about the pursuit of science as a career.
The ceremony was produced and directed by Emmy Award-winning Don Mischer Productions and will be simulcast in the United States on Discovery Channel and Science Channel on November 15 at 6 PM ET/PT, and televised globally the weekend of November 22 on BBC World News.
RELATED INFORMATION