James Berger receives National Academy of Science honor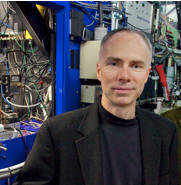 The National Academy of Sciences (NAS) has honored 13 individuals with awards recognizing extraordinary scientific achievements in the areas of biology, chemistry, physics, economics and psychology. James M. Berger, Walter and Ruth Schubert Family Chair in Biochemistry and Molecular Biology at UC Berkeley, is the recipient of the NAS Award in Molecular Biology. Berger is being honored for elucidating the structures of topoisomerases and helicases and providing insights into the biochemical mechanisms that mediate the replication and transcription of DNA. Sponsored by Pfizer Inc., the award consists of a $25,000 prize to recognize a recent notable discovery in molecular biology by a young scientist.
The National Academy of Sciences is a private, nonprofit honorific society of distinguished scholars engaged in scientific and engineering research, dedicated to the furtherance of science and technology and to their use for the general welfare.  Since 1863, the National Academy of Sciences has served to "investigate, examine, experiment, and report upon any subject of science or art" whenever called upon to do so by any department of the government.

For more information about other awardees please visit the NAS website http://www8.nationalacademies.org/onpinews/newsitem.aspx?RecordID=01202011.