Human-rights report calls for reparations for Khmer Rouge victims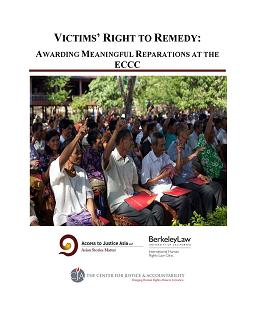 A timely report co-released by the International Human Rights Law Clinic(IHRLC) urges Cambodia's UN-backed tribunal to comply with international criminal justice practice and grant reparations to victims of the brutal Khmer Rouge regime.
The second trial of Khmer Rouge senior leaders for genocide, war crimes, and crimes against humanity—which claimed an estimated two million lives from 1975 to 1979—began last week before the Extraordinary Chambers in the Courts of Cambodia (ECCC). More than three decades after the killing fields, and with the three accused leaders in declining health, victims who have joined the criminal proceedings as civil parties are increasingly concerned that justice may not be served.
The ECCC is a new hybrid court with both Cambodian and international judges. It's the target of the new report by Berkeley Law students Saira Hussain '13, Shayla Johnson '13, and Peggy Li '13 called "Victims' Right to Remedy: Awarding Meaningful Reparations at the ECCC."  The report is co-authored by the NGOs Access to Justice Asia and the Center for Justice & Accountability.
"Victims demand and deserve the acknowledgment and dignity that reparations measures can provide," said IHRLC Director Laurel E. Fletcher. "The court should establish a generous framework for these victims to state what redress means to them. It's time for the court to empower victims."
"Victims' Right to Remedy" calls on the court to adjust the legal interpretations that led to its rejection of nearly all reparations requests in the first Khmer Rouge trial. It recommends that reparations be examined at the start of the current trial and not treated as an afterthought.
Hussain, Johnson, and Li worked with Fletcher and lawyers in Cambodia, California, and Singapore. Their research calls attention to a lack of clarity regarding reparations standards at the court, which the report finds "impinges on the rights of civil parties and creates uncertainty in Cambodian and international law."
"It's unfathomable that 32 years later this is the start of people getting justice, yet most media coverage of the court doesn't mention reparations," Li said. "It's shocking what hoops these victims must go through just to seek reparations, and more people need to know about it."
A Call for Justice
This could be the last trial of the Khmer Rouge leaders, largely because of their age and health. Consequently, it may represent the only chance victims have to claim redress against any perpetrators.
Nevertheless, the court has been reluctant to exercise its powers and provide meaningful reparations to the nearly 4,000 civil parties participating in the trial. In its previous case, the court cited legal barriers and procedural hurdles that other international courts have circumvented easily.
"The ECCC is applying a narrow standard that has denied legitimate requests that other courts have recognized," Johnson said. "We're trying to push the court toward compliance with international standards and show that it has ample authority to grant non-monetary remedies to victims."
Some of those potential remedies include building museums and monuments to commemorate the victims, providing educational support for children of survivors, and offering mental health services. The ECCC can also award specific redress for elderly, vulnerable, and low-income victims and order medical care for survivors who suffered harm as a result of the genocide.
Reparations constitute a new and emerging area in international human rights law. Only courts in Latin America and Europe have dealt with and resolved reparations issues effectively; the ECCC is the first Asian court to confront them.
Therefore, the report recommends convening a group of experts to create a mechanism for handling reparations. This independent body would receive and administer donor funds to implement a transparent, accountable reparations system.
"Our report explains the reasoning behind reparations and why they're so important for Khmer Rouge victims and the future of international law," Hussain said. "The ECCC has an ideal opportunity to make its mark and be an example for both Asian and hybrid international courts that face similar challenges. What better time than this?"