Howard Hughes Medical Institute names three new campus investigators
Evolutionary biologist Nicole King has been interested in the natural world since she was a little girl mucking around in the creeks and swamps of Florida. Russell Vance was torn between two loves, biochemistry and philosophy, until an adviser recommended he focus on the most philosophical of the biological sciences: immunology. Michael Rape's experiments at age 12 on how air pollution killed trees in his native Bavaria, eventually led him to a career studying the impacts of chemicals on biology.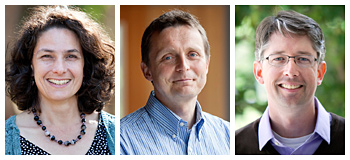 All three took different routes to UC Berkeley's Department of Molecular and Cell Biology, but they've ended up with one of the mostly highly sought positions at any American university: a fully subsidized appointment, with added research funds, as a Howard Hughes Medical Institute (HHMI) investigator.
Their appointments, and those of 24 other U.S. scientists, were announced today (Tuesday, May 6) by HHMI. The three – the largest number from any single university, though tied with Harvard Medical School – join 14 other HHMI investigators and one HHMI Early Career Scientist already at UC Berkeley.
"Although we do not have a medical school at UC Berkeley, the basic research that we are carrying out is leading to new insights into disease processes and making significant contributions to human health, and these new HHMI appointments are a testament to that fact," said Steve Martin, Dean of the Biological Sciences in UC Berkeley's College of Letters and Science and himself a professor of molecular and cell biology.
HHMI will provide each investigator with his or her full salary, benefits and a research budget over their initial five-year appointment. It will also cover other expenses, including research space and the purchase of critical equipment. Contingent on a successful scientific review, their appointments may be renewed for additional five-year terms.
"HHMI has a very simple mission," said Robert Tjian, president of the institute and UC Berkeley professor of molecular and cell biology. "We find the best original-thinking scientists and give them the resources to follow their instincts in discovering basic biological processes that may one day lead to better medical outcomes. This is a very talented group of scientists. And while we cannot predict where their research will take them, we're eager to help them move science forward."
The most philosophical of the biological sciences
Vance, whose bookshelf holds volumes by philosophers Immanuel Kant, Michel Foucault and Thomas Kuhn, grew up in Canada and studied both biochemistry and philosophy. He debated between the two until a summer mentor suggested Vance combine his interests by focusing on immunology.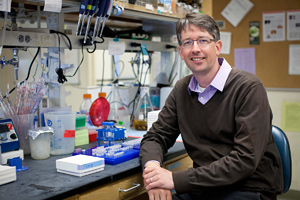 "I've never regretted following his advice," said Vance, 41. Philosophers deal with different interpretations of the world around us, he explained, not unlike the way immunologists interpret the world based on experimental data.
"A lot of scientists look down on philosophy, but I think a certain amount of philosophical sophistication really helps when you are doing science," Vance said.
After obtaining his Ph.D. under David Raulet at UC Berkeley, he became a post-doctoral fellow at Harvard Medical School, but was eventually enticed back to UC Berkeley in 2005. He focuses on microbes, such as the bacteria causing Legionnaire's Disease, that trick the immune system by hiding out in small vesicles inside cells. The HHMI appointment will allow him to expand his scope to look at the tuberculosis bacterium, which causes even more death worldwide.
"I'm interested in how the body knows it has been infected. This is the job of the innate immune system, which is the first line of defense against infection and determines whether to respond or not," said Vance, who teaches the scary-sounding course, "Plagues and Pandemics." "The consequences either way are potentially very serious – too vigorous a response leads to autoimmune disease; too little could leave you open to infection and death."
His interest in pathogenic organisms has twice drawn the attention of the TV show "Mythbusters." They interviewed Vance about bacteria on toilet seats and the health danger of double-dipping corn chips. Don't worry, he said. There are more bacteria in the dip than are added by double-dippers.
"I feel very fortunate to have had great immunology colleagues at Berkeley, as well as outstanding students and postdocs in my lab. This honor is in large part due to the success of these students and postdocs," Vance said. "Berkeley is a great place to do science because of its collaborative and supportive environment and the fact that it attracts great scientists."
MacArthur genius
King, a 2005 MacArthur "genius" fellow, has always had a fascination with biology. At age 11, she was studying axolotls – salamanders that retain their gills throughout life – in a laboratory at Indiana University. She interned in a biochemistry lab during high school, majored in biology at Indiana University and obtained a Ph.D. in biochemistry from Harvard before coming to UC Berkeley in 2003.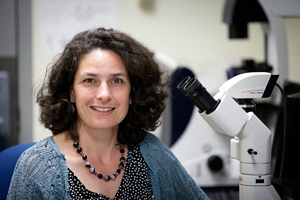 King, now 42, continues to focus on pond life, this time ancient, one-celled, microscopic organisms called choanoflagellates, the closest living relatives of animals. She pushed to sequence two choanoflagellate genomes, completed in 2008 and 2012, and has almost single-handedly championed the study of them as a way to reconstruct the origin of many-celled animals. The single-celled ancestor of animals probably resembled a choanoflagellate, she said.
She recently found that bacteria in the environment trigger choanoflagellates to form multicellular colonies, a hint that bacteria may have played a role in the evolution of multicellular life.
"We are broadly interested in reconstructing the origin of animals and learning what evolution has to tell us about the biology of animals today," she said. "And we have a new interest in determining how bacteria influence the biology of modern animals and how they might have influenced animal origins."
She even has evidence that bacteria in the guts of vertebrates can make choanoflagellates form colonies, which could have implications for human health.
Ubiquitin – it's everywhere
Rape – pronounced RAH-puh – never abandoned his interest in chemistry and biology. He studied biochemistry at the University of Bayreuth in Germany and got his Ph.D. from the Max-Planck-Institute of Biochemistry in Martinsried, Germany. After a post-doctoral appointment at Harvard Medical School, he joined UC Berkeley in 2006.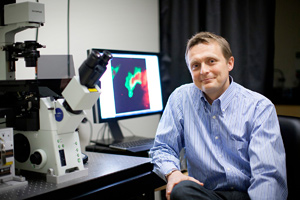 Now 38, Rape focuses on a protein, ubiquitin, found in every cell in the body and was once thought primarily to be the cell's housekeeper. Ubiquitin attaches to proteins that have outlived their usefulness and need to be recycled. Rape and others have since found that ubiquitin attaches to proteins for many other reasons, often in chains like pearls on a string. And there are hundreds of individual enzymes ‑ all potential targets for drugs ‑ that stick ubiquitin onto proteins, a process called ubiquitylation.
"Aberrant ubiquitylation may be responsible for many, many types of diseases, including cancer, neurodegeneration and chronic inflammation," Rape said. "We're trying to figure out the complex interactions among these hundreds of ubiquitylation enzymes and the consequences for disease."
The new HHMI funds will speed that research. An FDA-approved drug that targets the molecule that recycles ubiquitin-tagged proteins has already revolutionized the treatment of multiple myeloma, a rare but fatal type of cancer, Rape said. Last year, he teamed up with two other HHMI investigators – John Kuriyan from UC Berkeley and Art Weiss from UCSF – to form a company, Nurix, Inc., to find drugs that target ubiquitylation enzymes and could possibly, he said, "degrade harmful proteins, like the product of a cancer gene or protect good proteins."
That result, he added, could be a "game changer" for cancer treatment.