On the ground in Greece, students test tech to help refugees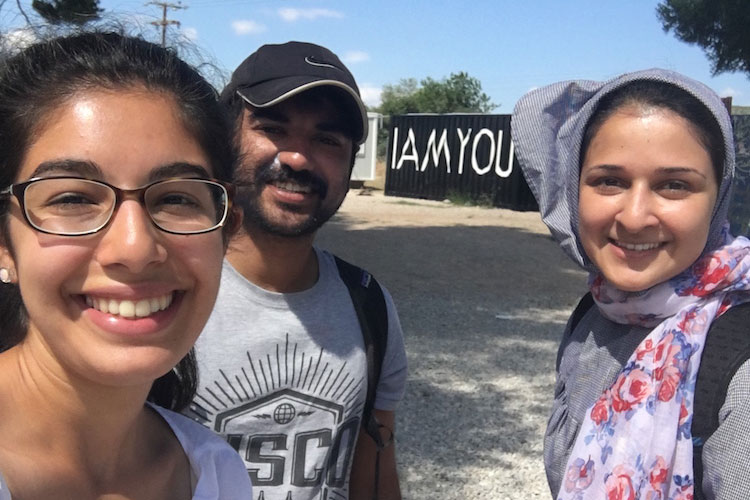 In a sweltering a refugee camp on the Greek mainland, Berkeley Haas MBA student Sarrah Nomanbhoy listened closely as a mother and her teenage son told their story.
They had fled Syria's civil war in 2015, heading for Turkey. A year later, they hired a smuggler who took them across to the Greek island of Chios in an overcrowded dinghy. They'd hoped to reach an uncle in Germany within three days, but found the borders had closed. The son searched his smartphone to figure out what to do next, but found that the information from humanitarian agencies too general, and that social media was filled with unverified rumors.
"They've now been waiting in Greece for over a year and a half," Nomanbhoy told writer Kim Girard at Berkeley Haas.
Nomanbhoy is not naïve enough to think that technology could remove the obstacles and traumas that this family and millions of other refugees on the move are facing, Girard writes. But she was there in the camp to find out whether she and her team — working on a startup called MarHub — could build a tool that could help refugees navigate the grueling asylum process.
MarHub evolved from last year's prestigious Hult Prize Challenge on Refugees. Nomanbhoy heard about the $1 million contest on a Friday night in November. By Monday she had met her co-founders— three other Berkeley Haas students. They put together their pitch within a week and, edging out 50,000 entrants, ade it to the last round of the competition's regional finals. Encouragement from judges, support from their advisers, a $5,000 Dean's Seed Fund grant and the $5,000 Hansoo Lee Fellowship, helped the foursome launch MarHub.
"Lots of people have shown up in Greece with the 'next app' so there is a lot of skepticism," says Nomanbhoy, a Silicon Valley native whose parents are both immigrants. "Refugees aren't using these apps. We want to build something they will use."
So the team went to Greece to work with the refugees as their collaborators. Over two weeks this summer, they conducted interviews and tested their prototype with refugees in Athens, Ritsona and in the Souda camp on the island of Chios.The results — a pilot program — will roll out this fall.